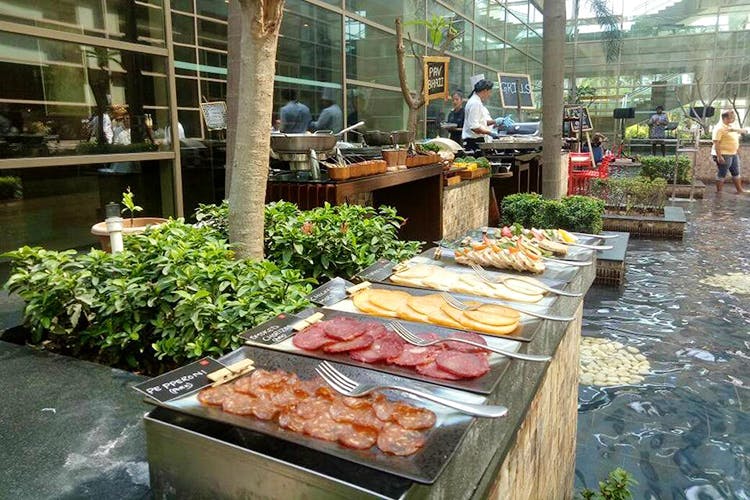 Dine In A Pool Of Water At This Unique Brunch Offering Unlimited Food & Alcohol
Shortcut
We just discovered a unique brunch of sorts in Chennai, that offers unlimited food and alcohol on a Sunday afternoon and has an artificial waterfall and a scenic setup with ankle-length water! So go and dip in, we mean, dig in!
What Makes It Awesome
Come Sunday and it's time to eat your heart out and sip on some cocktails at The Westin. Called Aqua Brunch, we loved everything about this unique spread here and before we begin, let's tell you, this week we went out of our budget and tried something pricey and we must say – it was worth it! For INR 1,500+taxes you get unlimited alcohol and food guys! It's okay to splurge once in a while no?
For starters, if you're looking to unwind and don't mind the summer sun, then this open-air brunch is perfect. Remove your footwear and walk into this corner filled with ankle length water. Just remember to wear shorts or flaunt your summer dresses, girls!
We started our meal with some mouth-watering grills. Their Grilled Lamb Chops, Prawns and Chicken were perfect to go with our drinks. Our favourite, however, was the Chicken & Veg sliders and the Pork Hot Dogs with Bacon. The Chicken sliders are cute as a button and you can easily have more than just one. Vegetarians, there is a whole lot of grilled zucchini, aloo patties and paneer for you. And hold on, there's some biryani too! We loved the mutton version, best.
From the bar, there are a whole bunch of summer cocktails to choose from. We had a gala time sipping on the rum-based Mojitos and the never-ending supply of White & Red Wine Sangria. And of course, some yummy desserts for our sweet tooth. We loved the Kaju Katli and Blueberry-topped Custard. Do try.
With a DJ spinning some of our favourite songs from the past and dipping our toes in the water, we had such a great time with our squad. And we think you would too! So the next time you're looking for a scrumptious brunch with your gang, you know where to head.
Comments