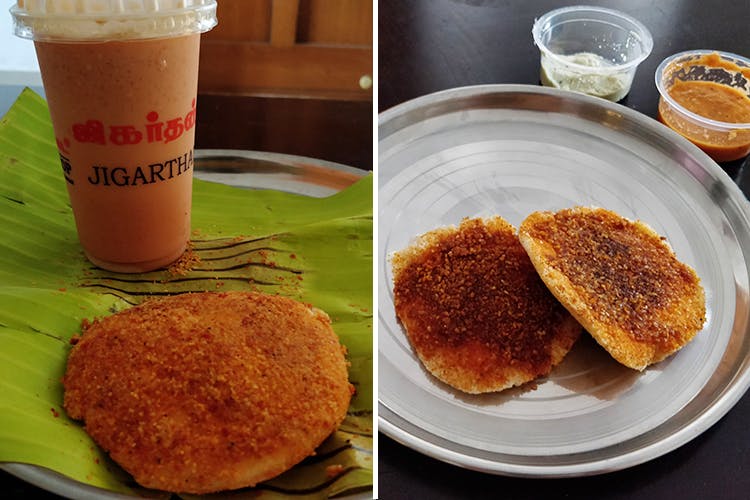 A Battle Of The Ages: Do You Prefer Podi Idlies At Murugan Idli Shop or Ratna Café?
Shortcut
Since we love our authentic south Indian breakfast so much, we decided to find out which iconic place served the better podi idli. Is it Murugan Idli Shop in T-Nagar or Ratna Café in Mylapore? Let the real podi idli please stand up.
What Makes It Awesome
For INR 29, we got a leaf plate with one piece of Ghee Podi Idli with an array of accompaniments at Murugan Idli. The big, soft idli is soaked in ghee and smothered with really spicy podi. If you love make-your-nose-runny kind of karam food, you'll love this. Since we don't have such a strong palate for spice, we had to wash it down with a nice, cold glass of jigarthanda, a popular drink here. Oh and guess what? This was our first time drinking it! This cool beverage made of ice-cream, milk, almonds and sugar is super sweet and refreshing. And it had some jelly ingredient (was it tapioca?) that gave it a nice texture too.
Verdict: The idli is soft but the podi was a bit too spicy for us but pair it with the coconut chutney and slurp down the jigarthanda, and it wasn't too bad. As much as we love dosas and the other breakfast dishes at Murugan Idli Shop, maybe this was a one-off thing?
As for Ratna Café, for INR 77, we got two pieces of Ghee Podi Idli. The podi was spot on — not too spicy, but just spicy enough for a nice kick of the flavour. And the idlis were oh-so-soft and melt-in-mouth, thanks to all that ghee. The accompaniments came in perfect portion size too. The coconut chutney was yum but our favourite had to be the tangy vengayam (onion) chutney. We decided to wash it all down with a glass of refreshing rose milk. It was all just perfect!
Verdict: Love, love love! Everything was a win in our books. The texture, the spice, the flavours, and even the accompaniments. Definitely coming back for more.
Pro-Tip
We think we've made it pretty obvious, but Ratna Café wins this challenge. We do absolutely love Murugan Idli Shop, but this time Ratna Café beat them to it. But who knows? Maybe for our next challenge, Murugan Idli Shop gets back on track? Stay tuned!
Comments