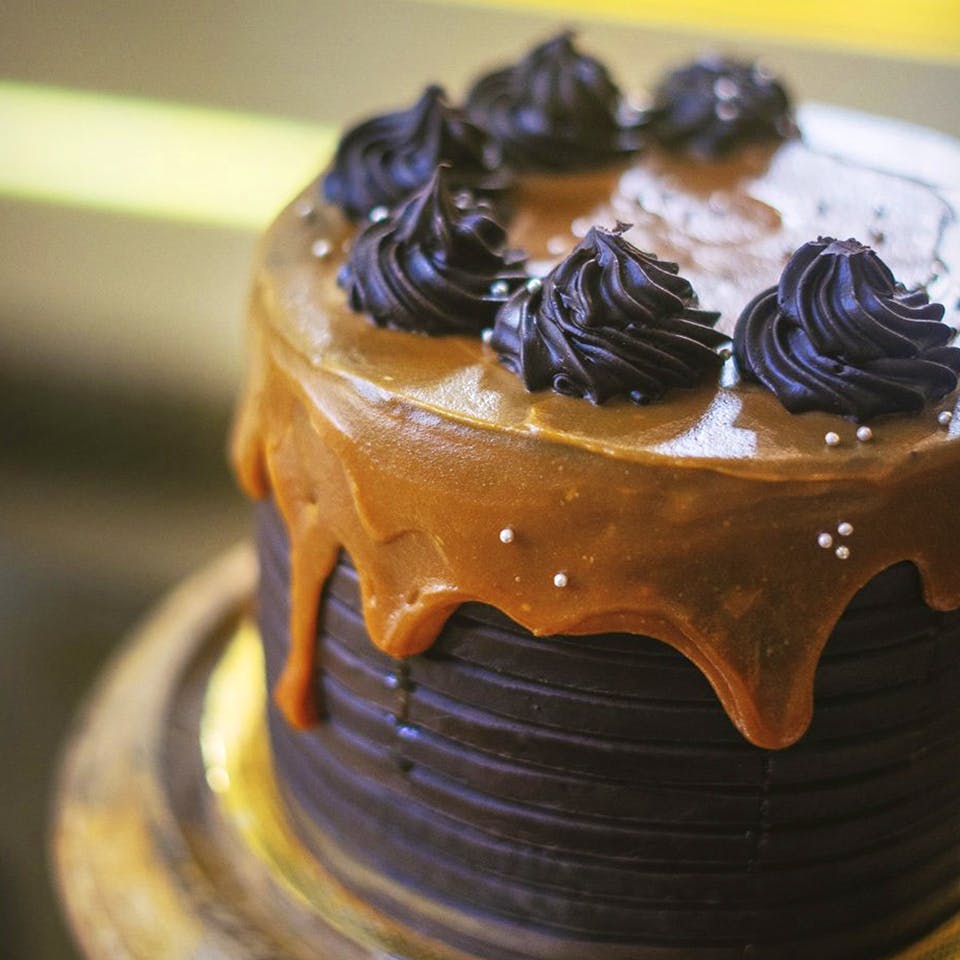 Classic Black Forest To Rainbow Cake, These Cake Shops Will Never Leave You Desserted
Of course, you can eat the cake and have it too - especially at these cake shops in Chennai. Whether you're looking for a birthday cake or just a sliver, you'll sure smell the frosting here. Scroll down to find the best cake shops in Chennai and thank you for pudding up with us. (Wink, wink)

Winner's Bakery
Located on CP Ramaswamy Road, Winner's Bakery is among Chennai's best and favourite cake shops. We love them for their delicate desserts and the budget prices. While the fastest moving cakes are White Forest and Red Velvet, you must try their Carrot Cake and Pineapple cakes. They also have croissants, muffins, and pies. The cake slices are priced from INR 75.

Nicky's Cafe & Fine Pastries
Bang in the middle of Egmore, this cosy cake shop is frequented by many college-goers. They've got cakes in flavours like Black Currant and their cheesecakes are divine. The seating area in this bakery/cafe is also perfect for a date and there are many offers throughout the year.
Hot Breads
Hot Breads is a bakery that's been around for a long time and in addition to the good old flavours they've now got flans and pies. They are known for their Noughat, Rainbow Cake, and Strawberry Cheesecake. It is the moistness and texture of their cake that stands out.

Fresh Baked Goodness
A newbie in the cake business, this cake shop has gained a huge fanbase in just a couple of years. We love their jar cakes and tarts, but everyone goes cray over they three-layered Theobroma cake. A whiff of this cake can put a spell on you, but the addiction is justified - it tastes awesome. Plus, this bakery has delish Tiramisu cake too!

Cake Walk
One of the oldest bakeries in Chennai, Cake Walk has cakes in flavours such as Lychee Rose, Butterscotch, and Irish Coffee among others. They are loved for their classic Ferrero Rocher and Blueberry White Chocolate cake. Their icing is definitely one of their best-kept secrets and we can't get enough of it.

Pantry D'or
If you like cakes with rich filling and creamy crusts, Pantry D'or is the best bakery to hit up. They've got exactly that and their desserts are for the sweet tooth who also want to eat healthily. Their Double Chocolate Cheese Terrine is one of their most unique creations.

Ovenfresh
Their ambience is a little basic but their cakes are why we're in this for the long haul - their fondant cakes are the ones to watch for. They've also got fruit-based cakes, fresh cream cakes, and photo cakes which you can customise for birthdays and special occasions. Their Rainbow Cake is relished by most people.

The Cake Shop - Leela Palace
If you're wondering what this place is doing on this list, clearly you haven't yet tasted these little drops of heaven. Yes, it's a bit pricey, but totally worth it. Many people buy birthday cakes here and they've got Wild Berry, Fresh Strawberry, and Smoked Hazlenut and Vanilla. Now, whichever you pick, you will fall in love with, but do try the Tiramisu. It'll transport you to a magical place.

The Cupcake Company
Taking a detour from traditional cakes, this cake shop in Alwarpet is known for their yum jar cakes and cupcakes. Must-try flavours include Pink Panther, Death By Chocolate, and Lady In Red. They also make birthday cakes, but their Red Velvet and Rainbow jar cakes are the best. They also have the softest cheesecakes.

Ecstacy
For hand-crafted cakes in new flavours, hit up Ecstacy, which is known for its international appeal (they've got a glossary in the menu for terms). Known for their fresh ingredients, their cakes taste great and are aesthetic. While the Jivara cake and The Ecstasy Cake are must-tries, you can pick from Vanilla & Tonka Cheesecake and Arabica are among the best.

Cafe Cakebee
Cakebee is a newbie but namma Chennai is going gaga over their cakes, which come in flavours like White Chocolate, Blueberry, and Strawberry. Take a bite and you'll be gorging on it for the rest of the day.
Old Madras Baking Company
With a bunch of cheesecakes, cupcakes, and desserts in their collection, we can't write about the best cake shops without mentioning Old Madras Baking Company. Their cakes have a crumble which will get you addicted within seconds, and their bite-sized desserts make it easy for us to eat them on the go.
Did we miss anything? Tell us in the comments!
Comments