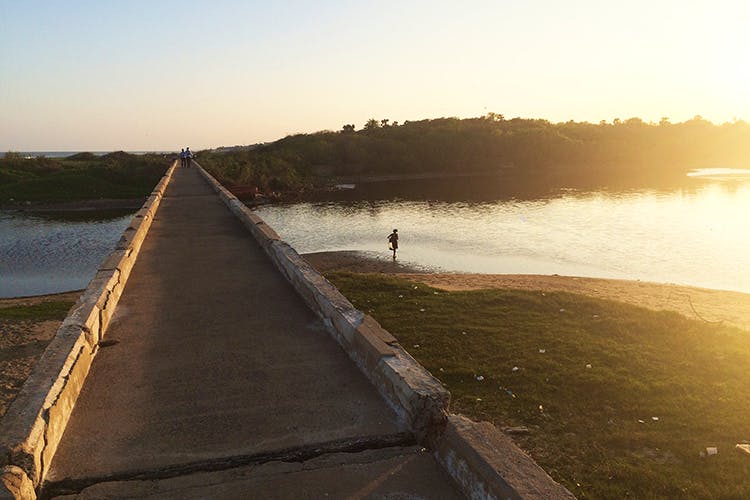 Drive To Broken Bridge Near Elliots Beach For Stunning Views & A Gorgeous Insta Feed
Shortcut
If you are heading to Elliots Beach, then don't forget to check out the Broken Bridge for stunning views of a river, the Bay of Bengal and Chennai's cityscape.
What Makes It Awesome
The Bridge to nowhere, the ruins of the Broken Bridge was built over the mouth of the Adyar Creek in the 1960s. The bridge was built for better connectivity between fishermen of Besant Nagar and the Marina. After being destroyed by heavy rains in the 80s, the bridge has turned into a tourist spot among the youth of Chennai. It's a few meters further north of Elliot's Beach where families and friends visit the bridge for a scenic view of the high-rises of MRC Nagar, the Cooum River and the magnificent Bay of Bengal. It is one of the most favourite spots for Tamil cinema shooting, and a camera must be taken to capture the terrific view.
I drove down to the broken bridge with my friends- it is our yearly ritual that every New Year's Eve, we meet on the broken bridge. The bridge is on the backwaters across which one can see the magnificent sea, high-rises of MRC Nagar, and the beautiful sea-facing 5 start hotel, The Leela Palace. We parked our vehicle and climbed on to the broken bridge, which faces the broken half of the bridge which lies towards the north of it. One of Theosophical Society's exit gates also leads to the broken bridge. The beach adjacent to the bridge is clean and never crowded, and people flock the bridge in the morning to take pictures of the lovely sunrise over the bridge.