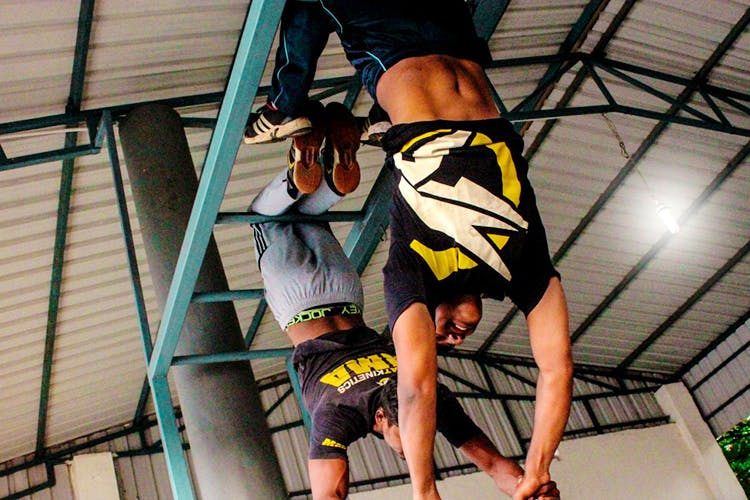 This Fitness Centre Offers MMA To Bootcamps & You Can Attend A Free Class Too
Shortcut
Combat Kinetics is where you go to if you want to become a superhuman. Dare to take a free trial class in one of their outlets?
What Makes It Awesome
So you're pretty bored of gyms and the usual kinds of workout. You want to challenge yourself with something more, let's say, savage. Have you tried Mixed Martial Arts (MMA) before? Well, now you can, thanks to Combat Kinetics. They have centres in Teynampet, Chetpet and ECR to name a few. And if you take up MMA you can try your hand (and the rest of your body) in combat sports like Muay Thai, Judo, Brazilian Jiu Jitsu and Submission Wrestling among others. You can either try their one on one classes that need to be booked in advance or their group classes.
MMA classes are an hour and a half long from Mondays to Fridays (about INR 12,000+tax for 3 months) where every half an hour they focus on basic fitness. So if you're just starting out absolutely new, you can start a bit slow the first two weeks and improve your fitness during the half-hour slots instead of the whole one-and-a-half-hour sessions and then slowly ease into the hardcore stuff. And don't expect fancy air-conditioned spaces, be ready to sweat it out!
They have programmes depending on your fitness level. And if you're not sure if this is the kind of workout for you just drop by a for a free trial class and see for yourself! You can join Fitness Bootcamps (about INR 9,000 for 3 months) where they focus on HIIT workouts over half an hour slots on weekdays.
There's also one-hour boxing classes on Mondays, Wednesdays, and Fridays — for three months it comes up to about INR 10,000+tax. They even have personal training sessions and if you can't make it the centres, the coaches can even train you at home!
Comments