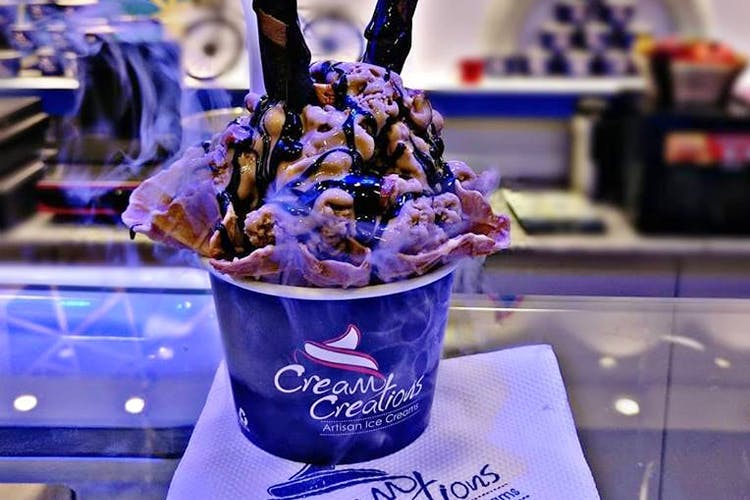 Liquid Nitrogen Banofee Or Chilly Guava Ice Cream Rolls? Have You Been To Anna Nagar's Coolest Dessert Spot?
Shortcut
Artisanal ice creams at Anna Nagar's ice cream parlour, Cream Creations, features all kinds of cool varieties made using liquid nitrogen!
What Makes It Awesome
Shanthi Nagar's Cream Creations does ice creams a little bit differently from other places. They're an exclusively vegan ice cream parlour which makes its ice creams using liquid nitrogen. Yep, they've got a mixer that melds the freezing liquid nitrogen with the ice cream, and in less than a minute they're perfectly blended together. So every bite you take has that spooky mist coming out of your mouth, kind of like you ate a ghost. Nitrogen ice creams are just great for playing with the super cooled smoke that comes out of it if you ask us.
There's a whole host of ice creams you can have made that way (24 in total!), like the fan favourite Banofee which is toffee and banana topped with hot chocolate fudge sauce and cookie crumbs and the slightly more expensive and far more decadent Dotted Saga that has Madagascar Vanilla ice cream blended with figs and topped with honey and roasted almonds. Prices for nitrogen ice creams start at INR 160 and go up to INR 195.
Yep, there's more. You can get your ice cream made into rolls too, similar to cold stone ice creams, there's shakes available and more importantly thick shakes too! Speaking of ice cream rolls they have a wacky Chilly Guava ice cream that is exactly as the name suggests, guava ice cream with chili and salt on top! Prices for ice cream rolls start at INR 120 and INR 165 for the thick shakes. If that's not enough variety they've also got pop sticks (aka popsicles) that you can dunk into a variety of toppings and even a DIY ice cream sundae menu at INR 195.

Comments