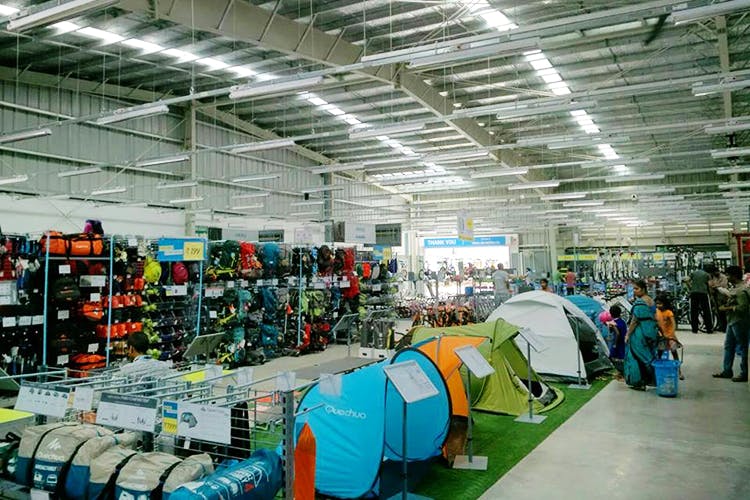 Scuba Diving To Mountaineering: This Popular Sports Chain of Stores Is Your One-Stop Shop For All Kinds Of Gear
Shortcut
The French sporting superstore is the best thing that happened to Chennai. With three stores up and running and one more coming up very soon, Decathlon is where we head to, to buy all kinds of sports and adventure activity gear.
What Makes It Awesome
Now unless you've been living in a hole these past couple of years, you'd know that Decathlon is almost like the Walmart of sports stores. Its unmatched variety and sheer size means that you can find pretty much anything from scuba diving to horse riding gear, all under one roof. Rest assured all their stock is of quality branded gear, like Quechua, Asics, and more, so you know that you're safe from knockoffs. Their large format stores also come with the added bonus of reduced prices on their goods as most of their stock is bought in bulk. On a good day, especially when there's a sale going on, you can find a good pair of sneakers for below INR 1,000. Take that, overpriced Nikes! They've also got affordable good quality compression wear for men and women which is hard to find unless you buy them from outside the country (to all my fellow female athletes, they've got sports bras too!). I'm eyeing the Kalenji full length running tights at INR 1000.
But beyond the frills of shopping at a large conglomerate, Decathlon chooses to go over and above for customers. Additionally, the store predominantly employs salespersons who are athletes as they know the ins and outs of the sport they play and the equipment they use, hence they're best suited to give you good advice. In need of a new tennis racquet, who better to walk you through it than an actual tennis player. Also, the Poonamallee Decathlon store in true Decathlon fashion has a small play area at the back for customers to come out and try out their equipment.