The information in this post might be outdated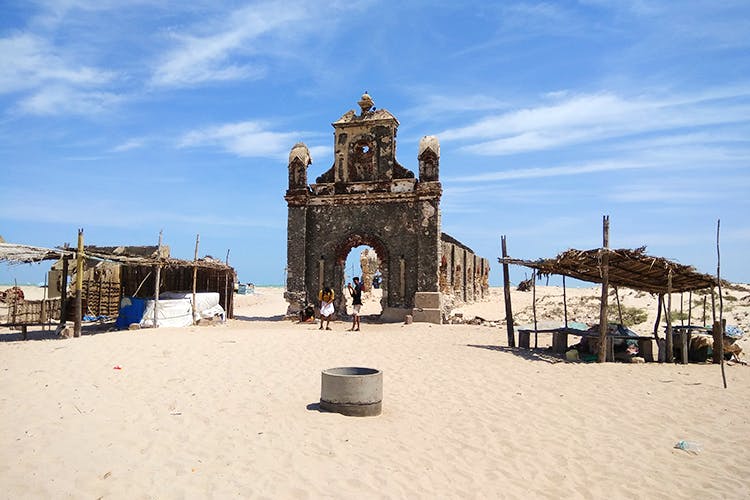 This Cyclone Hit Ghost Town In Rameswaram Is Hauntingly Beautiful & Is A Must Visit
Shortcut
If you are visiting Rameswaram, don't forget to spend a day at the nearby ghost town of Dhanushkodi, which once a thriving transit point was destroyed in the 1964 cyclone. Today the ghost town though in ruins, still remains strikingly beautiful.
What Remains Today
The 1964 Rameswaram Cyclone has often been recorded as one of the worst to strike Sri Lanka and parts of South India. On December 23, it struck the town of Dhanushkodi which was an important transit point between India and Lanka, leaving it completely in ruins and killing at least a 1,000 people. A visit to this deserted island makes you wonder how a town struck by such calamity is still peaceful and more importantly, so beautiful. This town in ruins has been the setting for several film including the shot from Mani Ratnam's Kannathil Muthamittal during the Oru Theivam Thandha Poove song.
You will need to travel through the Pamban bridge, a two kilometre stretch of railway bridge which connects Rameswaram to the mainland of India. At one point, on the bridge, you will be surrounded on all sides by water and feel like you are being swallowed by the sea! With no proper roads, leading to Dhanushkodi, you will need to travel via a jeep or bus on an off-road path to reach. A railway station, church, temple, school and a post office — these are the only buildings of which remains still exist in Dhanushkodi.
Why Must You Visit?
The shoreline and the remains of the buildings is all that is present in this town today. The stone structures of the church and damaged altar with its roof blown away, stands tall overlooking the remains of the once small homes nearby and a small temple as well. A little further away is the railway station, which used to be connected from Chennai Egmore to Dhanushkodi, before a ferry service takes you to Lanka. It might seem like a pile of rubble and rocks but if you look closely, you will see the remains of a railway track. The only occupants on the island are an odd 500 fishermen and their families, living in makeshift thatched roofed homes who make their living by fishing and the few tourists that visit.
The post office and school were wiped out but in recent years, there have been talks to revamp and start operations from the former. The Union Ministry of Road and Transport and Highways began a road project in 2014, which connect the Rameswaram to Arichalmunai,, the Southernmost tip of Dhanushkodi. This 10-kilometre-long tar road could be opened to tourists this year.
What Does History Say?
In the Ramayana, Rama orders Hanuman to build a bridge which would carry his army to Lanka to rescue Sita from Ravana. It is believed that this spot was in a temple called Ramar Patham Temple, a little further away from Dhanushkodi. If myths are to believed, traces of a man-made bridge called Ram Setu or also known as Adam's Bridge, existed between Dhanushkodi and the mainland of Sri Lanka.
It remains to be seen if this is true but these stories will never cease to surprise anyone. Peaceful in an eerie way, Dhanushkodi is a beautiful and unique place to visit!