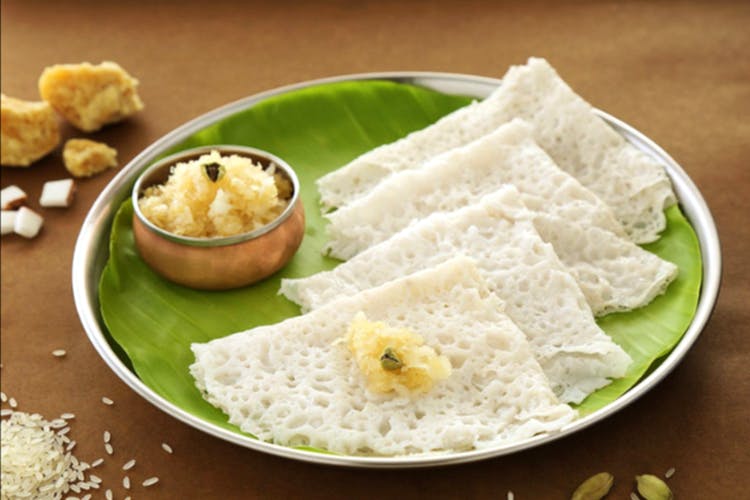 Neer Dosa & Sabudana Pongal: This Eatery Specialises In Yummy Vegetarian Snacks
Shortcut
Eating Circles is a small vegetarian, jain-friendly eatery in Kilpauk that serves all things circular! We mean circle-shaped food like dosa, thattu idly (idlies that are as big as a plate) and vadas with sambar, Bangalore style!
What Makes It Awesome
Craving Bengaluru masala dosa in namma Chennai? Worry not, we've got you covered! Head over to Eating Circles in Kilpauk and feast on Red Rice Butter Dosa, Neer Dosa, Ghee Thattu Idly, Sambar Vada and much more! They have a limited menu with only a few items to choose from but we hear there's perfection in the little that they have. Their specialities include sabudana pongal (wow, that's a first!), red rice butter dosa, open masala dosa, neer dosa, thattu idly, sambar idly vada and their all-time favourite beverage kaju rose milk. And of course, we mustn't forget the strong filter coffee! They also have sweets like Bangalore's favourite kesari bath (sooji ka halwa), gulab jamun and mysore pak. They also make Jain-friendly specialities so don't forget to ask at the counter.
There's no seating available at this Darshini style joint; it is a self-service eatery with an open kitchen where you might have to stand in line to place your order and receive your token at the counter. The restaurant does not have a lot of parking space either so you might have to park a little away and walk up to the restaurant. They're open for breakfast, evening snacks and dinner and the place tends to get super crowded on the weekends so you might want to plan your visit accordingly.

Comments