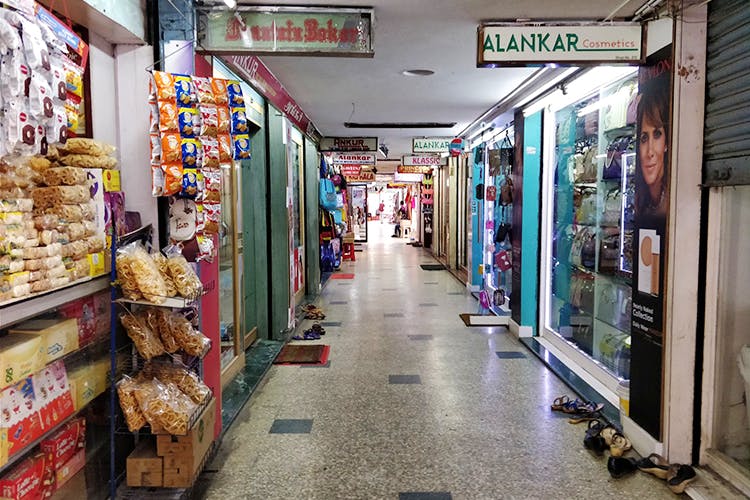 Here's Why You Should (Re)Visit One Of Chennai's Oldest Shopping Complexes
Shortcut
Fountain Plaza, an ancient shopping complex in Egmore, still houses everything from affordable shoes, clothes, lingerie to food and fun knick-knacks too.  We did some snooping and here's what we found.
What Makes It Awesome
My amma told me that when she was in college, she and her squad would hang out at Fountain Plaza, shopping for clothes and sipping on masala coke and looking at cute boys. Fast forward to more than 30 years later and Fountain Plaza still stands tall. Although we haven't seen any cute guys (yet), what we did find is numerous shops selling some really cool and more importantly affordable stuff.
Walk inside the complex and you'll discover that it's sprinkled primarily with clothes and tailoring shops but there's also juice stalls, a tiny café serving coffee and an air-conditioned restaurant, Ajnabi, where you go to satisfy your desi snack cravings. We nibbled on delicious bread cheese pakoda (just INR 35, guys!) and gulped down rose milk with gummy basil seeds.
Once refreshed, we walked further inside to the little shops and did some budget-goodies hunting. We discovered lingerie starting at just INR 180! You get these really funky printed ones in neon oranges and pinks for INR 350. Walk a little further and you'll find footwear starting at just INR 100. We liked a pair of Osho slippers but couldn't find one in our size, which is a problem at most of the stores — they don't have readily available sizes.
A little ahead there's Rajesh fancy cosmetic and beauty store where we found lovely pairs of earrings – jimmiki kamal types and also tassels and funky bottle and dreamcatcher shaped earrings too. We got ourselves a honey bee brooch – totes adorbs, by the way, and they also offered cute bow shaped bobby pins to kick it old school. We also spotted Masaba lipsticks for you beauty gurus. If cosmetics aren't your thing they even have keychains, bubble bottles and tubs of slime to throw at your friends!
Also, there's Ankur Matching Centre, where you can pair your favourite kurtas and get leggings that match. Kusal Flora offers artificial plants you can buy, you know, if you're a serial plant killer but still want a touch of green at home.
Thofah offers some lovely pieces of silver jewellery and if you need some stitching to get done, there are many tailoring units here you can check out. You can even get reams of fabric from this cotton wonderland that's in Egmore too. Oh, and did you know the famous Alsa Mall sandwich shop is just a short walk away? So all in all, we're thinking you might have to do some digging, it sure is worth a quick trip!
Ask Shruti a question