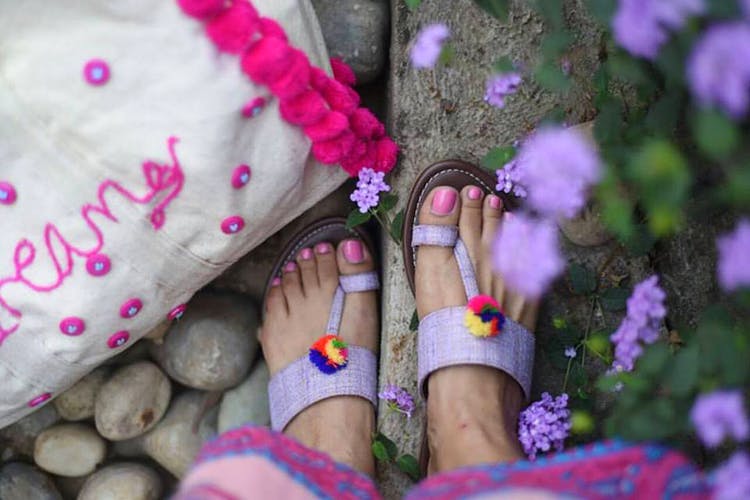 Kolhapuris & Methiyadis: Where To Get Funky Footwear In Chennai
With innovation in clothing taking centre stage, how can footwear be far behind? Here's a list of some avant-garde footwear brands that offer handcrafted shoes and offbeat designs.
Karmantik
Working with an aim to support traditional Indian shoemakers by showcasing their craft to the world as well as creating a market within India for daily-wear handcrafted shoes, Karmantik creates comfortable footwear that celebrates the colours and artisanship of India. Be it bold Odisha Ikat, delicate Andhra Kalamkari, or rustic Bagh and Bagru from Madhya Pradesh and Rajasthan, Karmantik incorporates diverse weaves into its smartly-designed footwear.
Ensuring to combine tradition with current trends, the designs are largely inspired by kolhapuri and jutti patterns, but also incorporate more contemporary patterns. Most importantly, they are versatile and practical – padded and slip resistant and can be worn just as easily with sarees as with a pair of old jeans.
Prices start at INR 850.
Vrajbhoomi
Vrajbhoomi as a brand describes itself as being on the quest for the Indian contemporary – a combination of global appeal and deep roots in Indianness. Working primarily to revive the age-old west Indian art of Ajrakh, Vrajbhoomi seeks to transform reinvent the way we see contemporary footwear.
Who said brogues or loafers were essentially western? The brand's impeccably-designed collection of these using ajrakh and ikat textiles are innovative and imaginative, and their products are classy and sleek. Want to look truly avant garde? Pair one of their brogues with a khadi saree. Or slip into their Burgundy Line Drama loafers when you wear a beige linen dress.
Slip ons are INR 1,650, while the brogues are INR 1,990.
Madras Trunk
A local brand can't not be on the list! The Madras Trunk offers a range of fun, vibrant sandals, and slippers in handcrafted leather and a variety of fabric. Choose from their collections whimsically titled 'kadal', 'aasai', 'vaanavil' among other names, and flaunt some luminous silver sandals with blood-red soles, pink leather strappy slippers that scream ethnic or bright, colourful and fun footwear perfect for casual outings.
The prices range from INR 1,100 to 1,600.
Methiyadi
Known for its comfort and its signature carelessly funky style, Methiyadi has fast become a hugely popular choice. The concept is innovative: mix and match and choose from hot pinks, cooler blues, and bright oranges, and customise your own colourful slippers.
Made from a blend of natural rubber from Kerala, the pairs are joint free and flexible, which minimises worries of breaking or tearing. Taking inspiration from the ancient wooden Padukas, these slippers have a knob that fits between the toes and rubber straps that adapt to the contours of your feet.
Apart from the excellent grip it offers, its long life, and the vibrant colours, Methiyadi slippers are also a godsend for people with broader feet who may otherwise struggle to find comfortable, wide footwear. We particularly adore Methiyadi's collaboration with illustrator Alicia Souza.
Comments