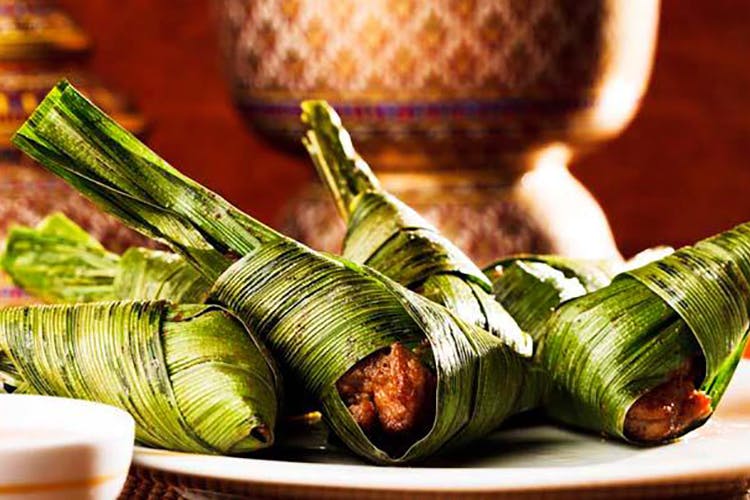 Here Are 12 Of Chennai's Most Iconic Restaurants. Which Ones Have You Tried Already?
Chennai ranked second on the list of Top Food Cities in the world by National Geographic in 2014. From being the conservative capital of India, Chennai has evolved into experimenting with different cuisines from around the world. We, at LBB, have decided to compile a list of some of our most favourite eateries, which we also consider iconic. But this is in no way an exhaustive list, so don't come after us if we didn't end up including your favourite restaurant. Just tell us in the comments below and we will add it to our recommendation.
Saravana Bhavan
Saravana Bhavan started with a stand-alone store in 1981 in Chennai. Ever since then, there has been no looking back. It is now one of the largest vegetarian restaurant chains in the world. When people think South Indian, they think Saravana. Their ghee roast dosas and limited meals are to die for! Although many other south Indian chains came up in Chennai later, Saravana Bhavan was truly the restaurant chain that put the South Indian cuisine and Chennai on the world map.
Buhari
Buhari has been around for more than half a century. Started in 1951, Buhari is a pioneer in the non-vegetarian world, with many feathers in its cap. Apart from serving fragrant biryani, it gave India what buffalo wings are to America, the Chicken 65. Buhari even featured in the National Geographic for giving India this iconic dish. Buhari has spread its wings to most parts of Chennai now. Although the Mount Road Buhari is the most famous, newer restaurants like the ones in Chetpet and Egmore have better ambience and food. The Chicken 65 still remains the most favourite dish of the Buhari chain.
Ratna Cafe
Ratna Cafe was started in 1948 in Triplicane, one of the oldest parts of the city, and has gone on to become one of the most renowned south Indian joints of Chennai. Although Ratna Cafe serves some great kothu parottas and filter coffee, loyalists go gaga over the joint's idli and sambar combination. The cafe is also known for the generous quantities of sambar it serves with hot and soft idlis. Although Ratna cafe has spread its wings to different parts of Chennai like Kilpauk and Velachery, but the flagship location, Triplicane, will always be our favourite.
Southern Spice
If you are looking for a fancy, south Indian dining experience, then look no further than Southern Spice at The Taj Coromandel at Nungambakkam. The restaurant does everything from the Kerala Kareemeen Polichadhu (pearl spot and shallots wrapped in banana leaf and grilled) to Kori Ghee Roast, a Bunt community speciality spicy chicken dish doused in loads of ghee. Southern Spice's lunch thalis are a must try, especially their Light Meals (vegetarian, meat and fish options available).
Nair Mess
One of the most celebrated non-vegetarian joints in Chennai, Nair Mess has created a name for itself in Chennai's foodscape. Known for its thalis and seafood, Nair mess is popular amongst locals and travellers. The food here is so good that when the former Chief Minister of Tamil Nadu, MG Ramachandran was in power, he used to visit this joint often. Their most popular dish is the Vanjaram fish fry. The mess has a very humble ambience, and gives us old Madras vibes. Although it serves one of the best non-vegetarian dishes in town, the prices are so competitive that one could have a complete meal for a mere INR 100 here. We recommend you to have the Nair meals, which comprises of a combination of various seafood and mutton dishes.
Annalakshmi
Annalakshmi is one of the most popular fine-dining south Indian restaurants of Chennai, and getting a reservation here is a mammoth task! The global presence of the restaurant in countries like USA, Singapore, and Malaysia has made sure the standards are maintained. The royal temple-like ambience of the restaurant gives you a true Tamil Nadu experience. Although the food is pricey, Chennaiites, especially families flock this Egmore restaurant during the weekends. We recommend you order the Mahalakshmi Preethi Bhojan for a wholesome thali experience. If you want to have great south Indian food with a royal experience, head to Annalakshmi, and don't forget to reserve a table in advance!
Moonrakers
Although located in Mahabalipuram which is a few kilometres off Chennai centre, Moonrakers has won the heart of Chennaiites. Known as one of the best restaurants for seafood in Chennai, Moonrakers serves fresh catch of the day due to its close proximity to the sea. Although it is a bit low on ambience, it has got Chennaiites driving down to Mahabalipuram just for one seafood filled meal, all the way till Mahabalipuram. The prices are quite competitive, and the quality is great. You have to try their mixed grilled calamari and prawn curry! So if you are craving seafood, get your squad together, hit the ECR and head to Moonrakers!
Benjarong
Serving Pan-Asian, with a focus on Thai food, Benjarong has been around for quite a while now. The decor of the place, although simple, is pretty authentic and Thai. Although it is a bit heavy on the pocket, it is still surely one of the best places to go for Thai food in Chennai. Their speciality dishes are the Goong Tod Samunpai (crispy fried prawns tossed with tamarind sauce) and Gai Hor Baitey (succulent morsels of chicken wrapped in pandanus leaves).
Dindugal Thalappakkatti
Dindugal Thalappakkatti has gone on to become one of Chennai's most favourite biryani joints over the years. Started in 1956 in Dindugal, Thalappakkati, the biryani spot, now operates over 40 outlets spread across Tamil Nadu and even in countries like France and UAE. The unique preparation of their biryani gives stiff competition to the likes of Hyderabadi, Muradabadi and Ambur Biryani among Chennaiites. Dindugal Thalappakkatti operates in most of the popular areas of Chennai like Besant Nagar, Nungambakkam and more, and is one of the biggest trendsetters amongst biryani outlets due to its legacy. The mutton biryani is Thalappakkatti's most celebrated dish.
Pumpkin Tales
Morning Glory Bowls, yummy salads, and tender desserts - find food for Vegetarians, Vegans, and meat-lovers all under one roof at Pumpkin Tales in Alwarpet. Known for their Oriental cuisine, Chennai peeps are loving the restaurant for their Vietnamese, Japanese, Thai, and Korean food. You can pick from Morning Glory Bowls which will fill you up just right. Don't forget to try their sizzling hot Bibimbap, you're guaranteed to come back for more.
Sangeetha
Sangeetha has become the first place people go to for South-Indian food. From their piping hot sambar to crunchy appalam, what's not to love at this iconic eatery? Oh, and the filter kaapi is divine, so tuck into the best Chennai food here.
Didn't include your favourite restaurant in the list? Tell us in Comments.

Comments