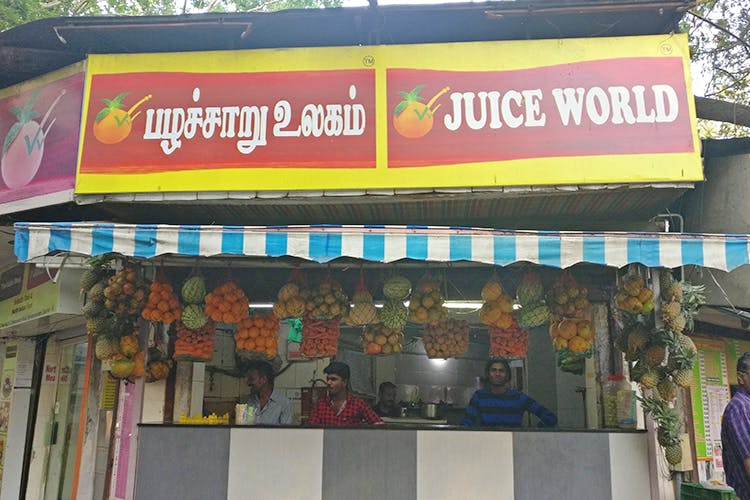 Sipped On The Mango Juice At One Of Chennai's Most Iconic Juice Shops Yet?
Shortcut
Juice World is an iconic juice shop in RA Puram that has been around for decades now and is our favourite place for fresh mango juice!
What Makes It Awesome
Located at the signal closest to the flyover on CP Ramaswamy Road, Juice World is a juice shop that's been around for a long time. They make fresh fruit juices and milkshakes for super cheap prices. The juice shop doesn't have any seating, just a storefront with a counter to collect your drinks from. Thankfully though the tree on the pavement next to it provides enough shade during the day, so standing and drinking aren't too much of a bother.
Their cheapest juice is arguably their most popular, the lemon juice. It's just INR 15 for a nice tall glass and on a hot day is more refreshing than jumping into a swimming pool. There are 40+ varieties of juice to choose from with the fan favourites being the lemon juice, watermelon juice, and sathukudi juice. Add an extra INR 10 to your juice and you can have it served chilled with ice!
If you're not much of a sugar-in-your-juice kind of person, feel free to tell them how to make it and they'll be happy to oblige. They've also got their own specialty juices that they've come up with, an example of which is the ABC; apples, bananas, and carrots. All crushed together and served with an optional side of ice cream, it can really fill you up. If you're looking for a rich filling drink, we recommend their badam and pista shakes as they're really yummy. Honestly, we could go on about all the juices and shakes we've had here, especially for the price and taste! We fell in love with this place the first time we went there and they gave us extra juice, simply because there was extra! Also, if you're hungry, try the chat shop right next door!
Comments