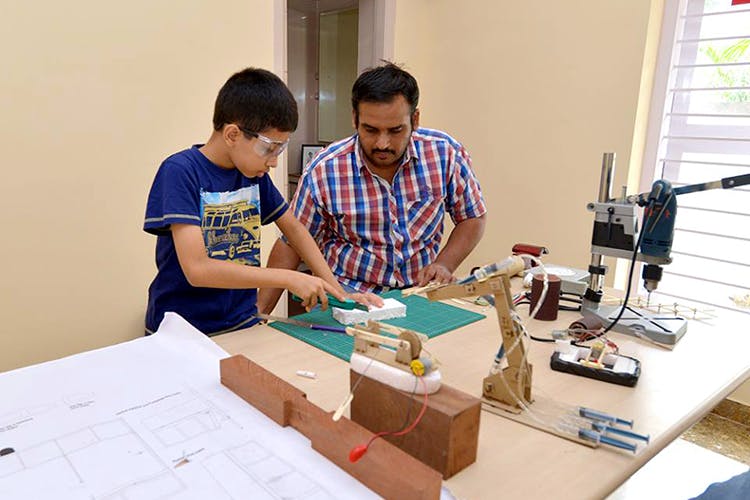 OMR Folks, This Activity Space Offers Karate To Carpentry For Adults & Kids Too
Shortcut
For events and classes on film, books, art and every other possible topic, visit The Learning Community at Quest, which offers activities for children and adults, learners and pros alike.
What Makes It Awesome
Imagine unlimited dialogues and workshops on music, film, science, food, technology, and art and craft all under the same roof, in a tastefully decorated, large space. Sounds too ideal, we know, but such a place does exist — The Learning Community at Quest.
Located in Palavakkam (quite ideal for the young families who work and live along OMR and the outer suburbs of ever-expanding Chennai), the Learning Community is dedicated to making knowledge-acquiring fun and encouraging various interests. Choose from board games, sewing, karate or carpentry every weekend, or attend events on film, watch an English or Tamil theatre performance, learn all about the art of shadow puppetry, take your kids to a fun, loud and raucous story-telling session, or be a part of the Clapboard Movie Club and travel the world sitting still in your seat with immersive documentaries.
Truly an inclusive space, Learning Community is also differently-abled friendly. Quest is also available as an after-school space for Individualised Engagement Programs (IEPs) over weekday evenings from 4pm-7pm, where children are engaged in projects and hands-on activities.
Pro-Tip
Art Arattai employs art as a tool for free expression, allowing one to use the medium to discover themselves while simultaneously learning about various styles of famous artists across history (INR 1,500 per month). There's even aero-modelling to learn (INR 8,500 for seven sessions).

Comments