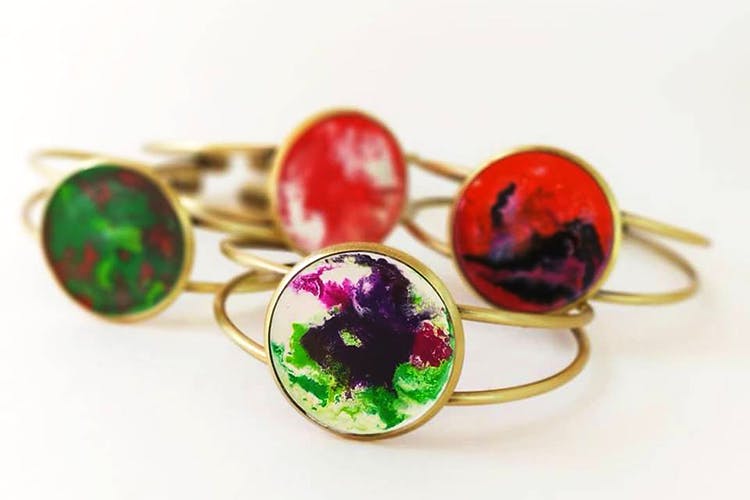 Trash To Treasure: Get Gorgeous, Upcycled, Unisex Accessories Starting At INR 250
Ten-Second Takeaway
At Madraskarri, everyday items are upcycled into delightfully colourful, quirky and one-of-a-kind jewellery pieces bound to make heads turn.
Wearable Art
What do the humble safety pin, the ubiquitous soda bottle cap and old magazine paper have in common? They all become the raw material for the very original designs of a one-woman enterprise, Madraskarri. The brand, only a few months old, is an accessory line that reinvents and repurposes old and used material – fabric, paper, stained glass shards, wire, raw wax, and other everyday objects – to create funky, eye-catching pieces that become wearable art. Perfect for those bored of the otherwise quotidian and uninspired accessories that flood the market, we think.
Upcycled Jewellery
At Madraskarri, choose from chic handmade wire and brass earrings, boho-inspired tassel earrings, summery fabric flower earrings and stunning brocade-fabric ear pieces to complement both western and more traditional looks.
Old sarees are converted into breathtaking, well-finished neckpieces replete with the vintage zari. Fabric pendants and stained glass and painted neckpieces in colour combinations ranging from bold pinks to soothing greens are available, as are quirky rings, colour blocked cuff bracelets and several other unisex accessories (that's right, there's something for men too!)
And if you'd rather go in for something with a traditional touch, Madraskarri has some edgy gold textured earrings with kemp embellishments certain to add a touch of quirk to your outfit.
Metal washers from the household hardware stash are upycled into chunky statement pendants in striking colours. Newspaper is transformed into elegant and sophisticated serving trays. Bottlecaps are repurposed to make richly coloured fridge magnets.  Whatever you wear from their collection, you're a part of the responsible, sustainable and zero-waste fashion movement that's taken the world by storm.
Apart from their presence on Facebook and on Instagram, Madraskarri's designs will be showcased at a pop up at Madras Margarita on June 23 and 24.
#LBBTip
Since pieces are handmade and cannot be replicated, stocks are limited, so grab what you like as soon as you see it!