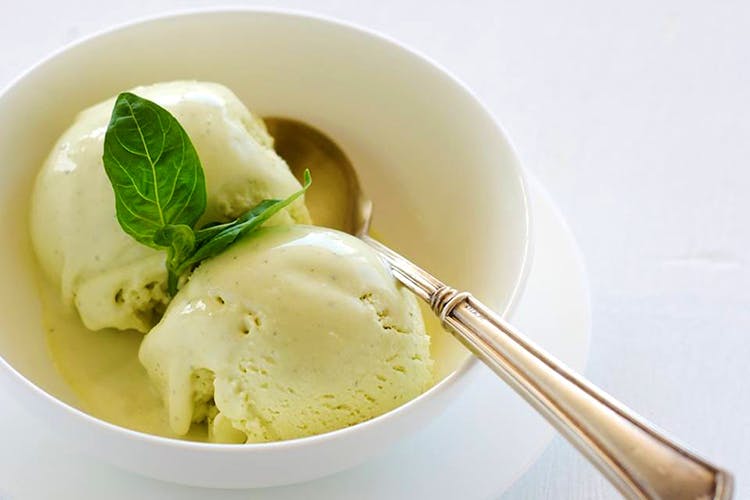 Satisfy Your Late Night Dessert Cravings At These Places Open Beyond Midnight
If you're reading this, you've craved some old-school chocolate ice cream or sundae in the middle of the night someday (or, every day, let's be real). Bummed out that the city sleeps too soon? Here are some places where you can get your fave desserts late at night!
Cream Stone
Be sure to see people waiting in line to get their ice cream at this parlour that's open till 1.30 am. Having a rough day? These Fundaes in flavours like cookies and cream and rose chikki will turn that frown upside down! Try their super filling dessert plates starting INR 150. They also have milkshakes, thick shakes, soda pops, and freaky shakes starting INR 95. Oh, and if you're a chocoholic, try the Willy Wonka (chocolate ice-cream + chocolate pastry + choco chips + chocolate fudge), Chocolate Overdose, Choco Lava, and so much more! Feeling creative? Create your own ice cream blends here!

Rockstone Icecream Factory
Open until 12.30 am, this dessert parlour in Anna Nagar has many fruit-based treats including Exotic Fruit Trills (sweet cream & mango ice-cream mixed with lychee, pineapple, and apple pie) and Strawberry Razzmatazz (strawberries, strawberry ice cream, bananas, white chocolate, pie crust and more) starting INR 100. There's a separate corner for kids. Well, you needn't really take your kids to taste their Candy Land (cotton candy ice cream, gems, rainbow sprinkles, choice fudge) and Oompa Loompas (bubble gum ice cream, jujubees, strawberry sticks). Love them dry fruits? Try Doctor Nut and more nutty ice creams starting INR 110!
Kulfi House
Kulfi lover? Welcome to the place where you can get the best flavours of Kulfis starting INR 50. From classic flavours (malai, choco chips, kesar pista) to special ones (roasted almond, crunchy caramel, fig, and more), this place is perfect to get a midnight treat with your fam. They also have sugar free options. Faloodas and family packs starting INR 170 and they are open till 1am, what's not to love?

Freez Zone
If you grew up in Chennai, chances are you went to this iconic ice cream parlour and enjoyed some softy cones! This place is open until 1am and has comfort ice cream that makes us feel at home. Banana, chocolate, pistachio, all these simply classic flavours plus fruit rolls starting INR 100, this place could be your go-to midnight ice cream place! Get their two ice cream combo starting INR 90 for double fun!
The Scoop Bar
Cutesy decor, quirky captions on the walls, this place is great for an ice cream date with bae. There's nut-based and fruit-based ice cream starting INR 145. Want something more than just ice creams, well, try their pancakes, crepes, or some creamy milkshakes. What's new, you ask? Well, they have a special section called the kid creations that is equally exciting like the other treats in the menu. Pick from unique flavours like Cinderella (strawberry icy, strawberry jelly, rainbow sprinkles) and Charming Prince (Vanilla icy, chocolate sauce, Nutella gaze, gems) and get whisked off to another place. And, don't forget your glass slipper when the clock strikes 12!

Comments