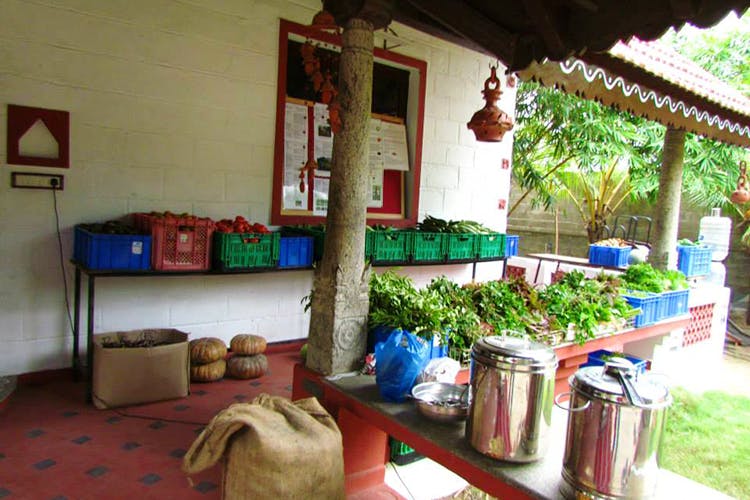 Make The Switch To A Sustainable Lifestyle Courtesy This Organic Store On ECR
Shortcut
Charming, old reStore in Kottivakkam is a non-profit organic store that offers everything from fresh veggies and fruits to skincare essentials. Oh, and did you know, they've been around for 12 years now?
What Makes It Awesome
This week we visited reStore situated in a cute little traditional house that hosts the A to Z of all things organic. Located on the Kottivakam main road, reStore is a non-profit volunteer organisation where they sell vegetables, fruits, other edible items and a lot more, all directly sourced from farmers. We went and browsed through their many interesting goodies and here's everything we found.
Tons of juicy mangoes across varieties so come here quickly, before the season ends. Find other fresh fruits like pineapples and an assortment of veggies which you can collect on Thursdays at 2pm to get the best stock. Looking for mom's favourite ingredients? The store has got homemade red chilli powder, idly, sambar and rasam podi and other products like cardamom, organic long black leaf tea etc.
They also have some Himalayan Crystal and jars containing organic honey and peanut butter; there are also Horse Gram, Sesame and Foxtail Millet Laddus to satisfy your cravings and are kind of a healthier alternative to other processed sweets no (well, kind of)? Get this starting at INR 300 per kg.
For nature enthusiasts, reStore is also the place to be if you're trying to grow your own veggies. They promote Terrace Gardening with sale of Bottle Gourd, Ladies Finger, Plant Drum Stick, Yellow Pumpkin seeds and gardening equipment as well. Also, you can sign up for their monthly Terrace Gardening workshops to brush up on your skills or learn all about the method. Apart from this, you can sign up for annual cooking classes and organic breakfast sessions as well.
Now, moving a bit away from organic produce and sustainability, reStore conducts homeschooling meet-ups with pot luck. This is the time of the month when parents and children gather and put forth various ideals regarding homeschooling and help each other out over meals.
If you ever visit, don't forget to take a stroll around their breezy property that also has a mini play area for kids.
Comments