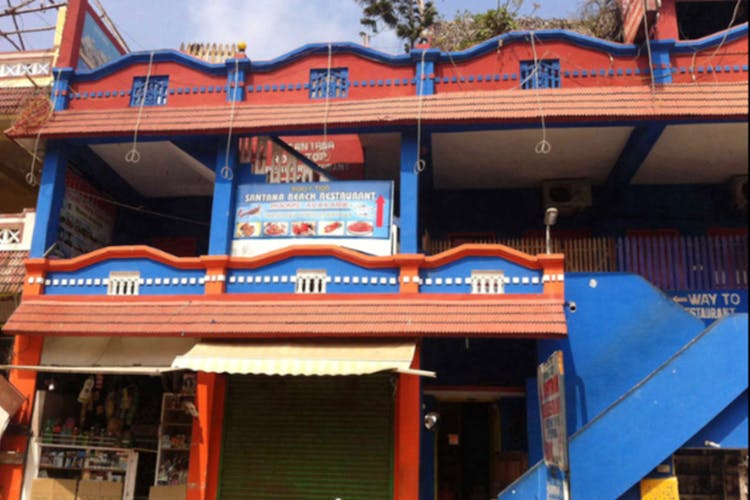 Ditch Moonrakers, Visit This Restaurant On The Beach In Mahabs For Great Seafood Instead
Shortcut
Located on the same stretch as Moonrakers chain of restaurants in Mahabalipuram, Santana has become a very well-known alternative as it is near the shore and offers a brilliant view of the sea! Plus, they offer the freshest of seafood and you can BYOB too. 
Very Fishy
Being a regular at Moonrakers, I wasn't entirely convinced about heading to Santana but I got to admit, I was pleasantly surprised. On par with the tasty food and interiors with other restaurants, the ambience here of sitting by the sea is incomparable. Add a glass of beer or liquor to that and you have yourself a perfect getaway! With its rustic interiors and thatched roofs, the restaurant has a very welcoming ambience.
You can't visit Mahabalipuram and not eat seafood! You can order the starters at Santana in three different styles: fried, chilli and masala. It goes without saying that you need to try the fried and tawa calamari and prawns. Are you taking a friend who eats only vegetarian food? Don't worry. The tawa potato and paneer at Santana are equally good!
And Do NOT forget to ask for the butter garlic sauce on the side as well!
The Main Attractions
For your mains, you can request the restaurant to bring out the fish and crabs fresh before taking your pick of what you would like. Other options would be a calamari or fish fry masala with some boiled or fried rice to go with it. Both these mains were fantastic, but if you'd like to experiment with some Italian food instead, you can order the seafood or white sauce pasta!
Unlike other restaurants in Mahabs, you can take your liquor other than beer to Santana, which they provide. The options for beer are the usual Kingfishers and British Empires but you will be charged INR 250 for a 750ml bottle of beer. The dessert options include pancakes and a special recommendation would be the banana fritters!
Should I Make This Trip?
With excellent service and a blissful view by the sea, Santana is definitely worth a visit for a few drinks and delicious food!
Comments