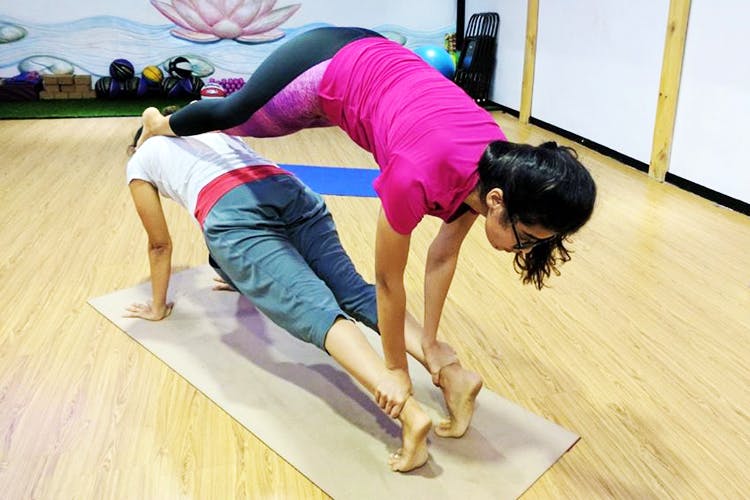 Acro To Hot Yoga: This One-Of-A-Kind Yoga Chain Teaches A Whopping 25 Kinds
Shortcut
Looking to try yoga that's fun, interesting and new? Check out Sarva – A Renaissance Yoga Studio for their 25 different kinds of yoga! And they have branches all over the city, so you are sorted.
What Makes It Awesome
Sarva aims to bring yoga to everyone, right from the hyperactive younger generation to the elderly. To do that, all their forms of yoga vary in levels of complexity so as to suit the needs of the trainee. Their daily classes feature a new kind of yoga with interesting types of techniques.
Some of them are more commonly popular types like acroyoga (yoga and acrobatics), aerial yoga (yoga from a suspended cloth) and Ashtanga yoga. But there are also many more zany types that Sarva has come up with. For instance, a basketball yoga where you use a basketball along with your asanas, chair yoga which focuses on spinal alignment using a chair (elderly friendly), and paddleboard yoga, which involves doing asanas on a paddleboard on water! And that's not all! There's insight yoga that has you blindfolded, and even Theraband yoga which they say will help improve flexibility by using therabands as an implement.
To make things even more interesting there's Hot yoga every Friday. For the uninitiated, this means doing yoga with the temperature turned up. Makes you sweat and feel better after. All their staff is certified yoga instructors with postgrads in yoga apparently, so you know you're not being horsed around. They currently have three different levels of classes that they run, an intense batch, a general fitness batch, and a beginner's batch, that's also elderly friendly. Sarva's classes happen in the mornings and evenings across the five branches they have in Chennai. Rates for which start at INR 5,000 for one month, which is pricey but thankfully their longer membership offers have reduced rates. Their three-month plan comes in at INR 12,000 and a yearly membership costs INR 30,000. They host standalone yoga workshops too for the popular kinds of yoga like paddleboard and aerial yoga too.
Comments