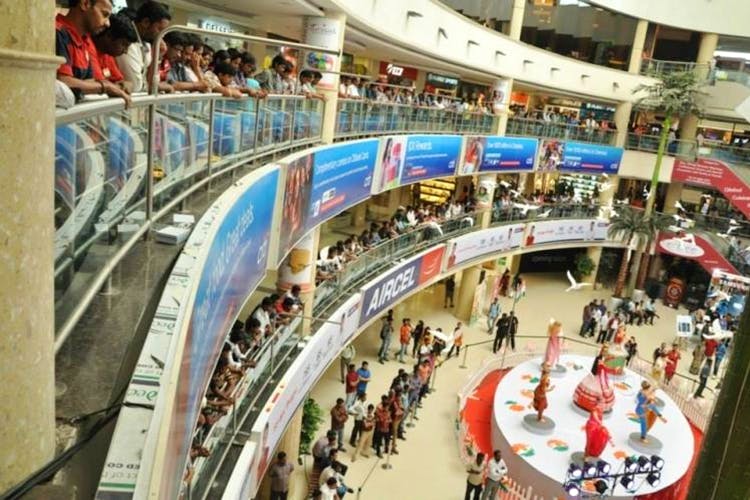 We Went Shopping At Express Avenue Mall On A Budget Of INR 5,000. Did We Conquer?
We went shopping at Express Avenue Mall with just INR 5,000. What did we get and did we exceed our budget despite that? Find out!
H&M
Can we live here, please? We got a simple striped halter neck dress (perfect to be worn during Chennai's not-so-kind summers) for INR 799 and a pawdorable panda pouch for INR 399, both from the Divided section. Psst guys… a rack or two is always on sale at H&M, so look out for those.
Damages: That's INR 5,000 minus INR 799+INR 399 (1,198), which gives us INR 3,802 more to splurge
Marks & Spencer
Sure, we love their clothes, but check out their perfumes and get them at a pretty affordable prices too. We picked up the Lily of The Valley Eau De Toilette, 30ml. There's also a lavender scent, if that's more your floral favourite. This came upto INR 699.
Damages: That's INR 3,802 minus INR 699, which gives us INR 3,103 more to splurge
Nike
Ok, so Nike is a bit steep, especially considering our budget. But if you're going to hit the gym/functional fitness/yoga studio soon they have awesome gear. If you're not on a budget you can pick out this fitting, dri-fit full-length pants for INR 2,495. But since we're on a tighter budget we picked a simple, classic sports bra for INR 1,495.
Damages: That's INR 3,103 minus INR 1495, which gives us INR 1,608 more to splurge.
The Body Shop
Okay, so we may have spent a bit of our budget a little soon and a little too much, but no complaints. Yet. We still have some cash left for the shopping trip to continue so we decided to get something yummilicious from The Body Shop. We picked the Strawberry Body Polish Scrub which smells absolutely divine for INR 625.
Damages: That's INR 1,608 minus INR 625, which gives us INR 983 more to splurge.
Forever 21
You can skip the clothes shopping, the collection is just so-so, but have you checked out the collection of adorable socks here? Magical unicorns, squishy-faced pugs and and sharks swimming in a sparkly blue background. We had to add one of these to our cart. Perfect for daywear or even for our (of-course-we'll-attend) fitness classes. We got these for INR 299.
Damages: That's INR 983 minus INR 299, which gives us INR 684 more to splurge.
Starmark
Bibliophiles, you can probably spend hours here browsing for books, but we decided to get a much needed bookmark for our collection. We got one for INR 99.
Damages: That's INR 684 minus INR 99, which gives us INR 585 more to splurge.
Escape Cinemas
All that shopping tired us out, so we decided to spend the last of our cash on a movie. Trying to survive the crowd sure got us beat. And for INR 70 (Budget tickets) and INR 185 (Elite) per ticket in one of Chennai's best theatres? Worth it!
We're spending the remaining cash on yummy popcorn of course. If we saved some more cash, we could have gotten a much needed 20-minute foot massage at Bliss By Oryza, right next to Escape, starting at INR 400. Ah, maybe next time!
Comments