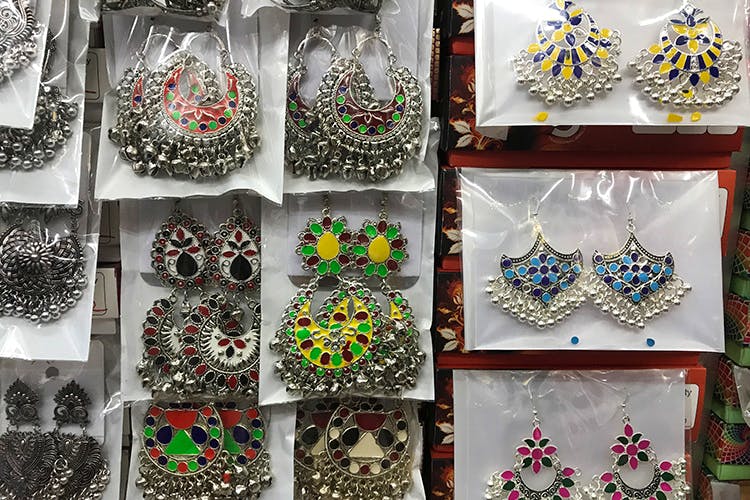 Boho Dresses, Leather Bags & Chunky Jewellery: Shop At Sowcarpet For As Low As INR 40
Shortcut
From earthy boho dresses, cheap-but-pretty accessories to ethnic ready-made blouses and chic leather bags, we found a street shopper's paradise in Chennai's Sowcarpet by-lanes. Here is what we stumbled upon and thought you'd love just as much as we did.
Accessorize!
In the center of Mint Street, right near many fabric marts, are shops selling earrings, chokers and a whole lot of other pretty accessories for all occasions. We went shopping to few of these kutti shops near the Jain temple and were truly amazed by their range. While Afghani tribal jewellery has been around for a while now, Sowcarpet shops have on display all the latest designs from the world of chunk jewelry. We found these pretty long chains styled Afghanis for just INR 120 and our favourite lotus shaped jhumkas for as low as INR 40. And these are without bargaining! Steal deal, isn't it?! Most shops also have the colorful painted Afghanis apart from metal bell jhumkas, which start at INR 120. We were also really surprised to find some hand painted earrings, not seen in many other places before. These sets including the glass earrings, are everything you need to glam up your simple tunics. There's also plenty of options for those of you looking for affordable Temple Jewelry. While few of their heavy choker sets are beautiful, their simple chains and lockets starting at INR 150 are worth a pick. Further down the road, we also found bangles, of all shapes and sizes. There are classic glass bangles and the black metal and gold sets as well. Our favourite pick were the gold antique bangles with stones popping out from either sides. These are chic and can go well with not only wedding wear but also western outfits, if you like. Get them at INR 120 for half a dozen. Also if you love some feather metal chokers, especially the vintage Kasu Peru ones, then no look no further. Usually charged above INR 500 online or in fancy stores, they are available for just INR 200 or less in the streets of Sowcarpet. If you're interested in picking up more than just one piece, then the wholesale shops give it to you for as less as INR 90 and these people have some really off beat sets, we must say. Only their gem stone jhumkas are a little pricey, but worth it if you get a good bargain.
Go Boho
Goes unsaid, Mint Street is definitely the adda for fabrics, sarees and anything relating to Indian clothing. We tried to hunt for millennial-style dresses and sarees as well and we weren't disappointed. Amidst the shops loaded with flashy and mirror-work lehengas and sarees, we also found exactly what you'd want to pick for office and beach getaways too. Many shops now have bohemian and tie and dye printed kurtis and knee length dresses. Starting at INR 500, from Kalamkari to printed cottons, there is something for everyone. Apart from tunics, what we also loved is Sarees from Bhagyashree. Located in the centre of Mint Street, on the opposite side of the Jain temple, is this shop with a range of classy sarees. We are talking about simple sarees with light borders. The best part being that these sarees are priced at just INR 500 and come in a whole range of colors and very subtle designs. So if you're the one trying to escape heavy work ethnics and are looking for light weight sarees, this is your stop.
House Of Blouse
We understand how exhausting it is to get the right blouse stitched for your sarees. Not one, but many Mint Street shops have the perfect quick fix for you. We stumbled upon one such store, in the further end of Mint Street, after Kakada Ramprasad and discovered Blouse Paradise. The designs are both traditional and unique. Also on display are popular gold blouses, to mix and match with any saree and several other embroidered blouses. Blouses start at INR 500 and go up to 1,500. And oh! Another amazing find were cold-shoulder Gujarati and Rajasthani print blouses. We couldn't resist picking up these colorful ones.
Bag It & More
Mainly known to be a hub for accessories and clothing, Mint Street's footwear and bags are worth mentioning too. We found authentic Kutch bugs, leather slings and backpacks too, starting at INR 500. What we loved the most were the embroidered clutches. Perfect to gift or even flaunt at occasions, these cream-coloured floral clutches (INR 200) are dreamy and are of pretty good quality. In the footwear, we were impressed by the range of mirror-work jhothis and metal punk slip-ons. To our surprise they have loads of studded and chic footwear, for everyday use and even fancy occasions if you like. Last but not the least, Mint Street has hundreds of shops with cartons of borders, stickers, fabrics and others to choose from, if you're customising your outfits and are looking for the right add-ons. All your reference images and online designs, are mostly likely to be found in these small little shops, present at every corner. The borders we loved surfing through start INR 100 and go up to even INR 1,000.
Pro-Tip
Don't forget to bargain, of course. And take a break and check out the awesome street food at Mint Street here.