The information in this post might be outdated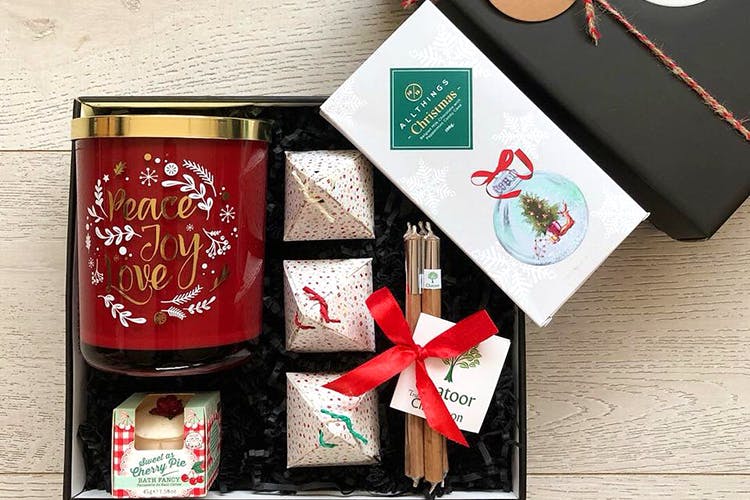 Cupcakes & Christmas Stockings: Gift Bae Or Your BFF These Cool, Personalised Hampers
Shortcut
Clueless about gift giving? Fret no more. With customisable and pre-packed gift boxes, Style Salad has made gift giving easy. They've even got something special for Christmas!
What Makes It Awesome
I'm one of those people who doesn't know the first thing about gift giving. Have they read that book? Will those shoes fit? What if the T-shirts too big? Maybe they already have enough sunglasses, are all thoughts that run through my mind when thinking about getting a gift. Thankfully Style Salad is there to save the day. They've got pre-packed gift boxes, with different themes to suit the occasion. Want to congratulate a loved one for joining a job? They've got the Hustle Gift Box (INR 2,600), which is the perfect back-to-work starter kit, with artistic pen holders, golden paper clips, a classy diary, quality pencils, a coffee mug and even a chocolate bar named 'All Things Monday', how cool is that? That's just one of over 20 gift box themes they have!
For this festive season, they've got a Christmas-themed gift box, replete with artisanal brands of cupcakes, tea cones, and cinnamon sticks, along with red stockings, a bar of Christmas chocolate and an apple cinnamon-scented candle! All for INR 2,450. Their second variation of the Christmas themed gift box has variations of the same lineup and comes in at INR 2,600.
They even allow you to send personalised messages to the recipient. If all that's not enough, you can make personalised gift boxes too, for the uber special occasion that require a finer touch. They cater to larger groups as well, so if you're thinking about corporate gift packages or even wedding gifts they've got you covered! Those are only available on request via email, which can be found below.

Comments