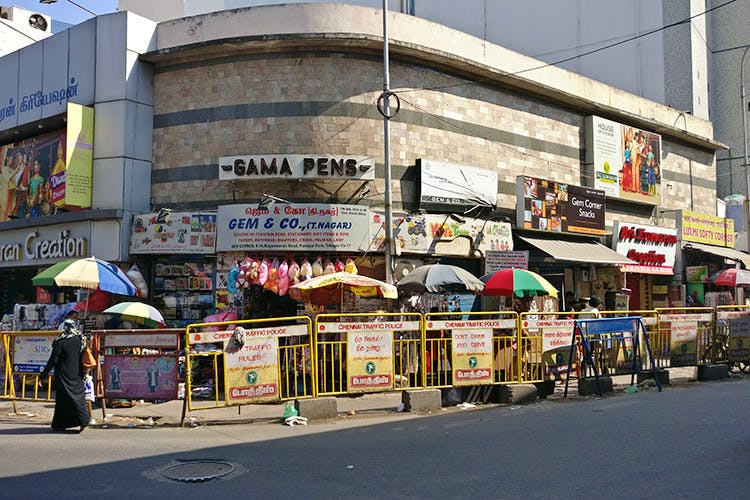 Saree Shopping, Budget Knick-Knacks & Rooftop Footy: 6 Places You Have To Check Out In T Nagar
Thyagaraya Nagar or more fondly known as T Nagar, is one of the oldest parts of the city. Initially a trading community, in the last half century has grown in to arguably the biggest commercial hub of Chennai. Looking for traditional sarees, budget kick-knacks or a space to play rooftop footy? Then check out these seven cool places in the ever-bustling T Nagar.
Saravana Stores
A department store that didn't stop growing is what Saravana Stores is. The first thing you will notice is how palatial their stores are and how surprisingly crowded they are at all hours. Saravana Stores is essentially our version of Walmart, they sell everything from clothes to electronics to furniture to jewellery to home appliances and more at base prices. If budget shopping is your jam, you've come to the right place. In the recent years they've opened up a few more stores around T Nagar but we think you should go check out the original one on Ranganathan Street, a.k.a. the most crowded street in Chennai, just to see where it all started.
Street Shopping In Pondy Bazaar
T Nagar is also known for its street shopping, as you'll find hawkers on every pavement peddling everything from wigs to fidget spinners and selfie sticks. The street shopping in Pondy Bazaar however, has plenty of women's accessories like hair bands, bangles, bags etc. They're all open to bargaining and can be super enterprising when it comes to attracting customers. We've been sung to, danced too and even kindly asked to shop for wares from them. They sell clothes too, but quality wise you get what you pay for. Here's a list of cute products we found at Pondy Bazaar for as low as INR 60. There's plenty of food stalls and restaurants like Hot Chips and Woodlands that are great to eat at. For more on Pondy Bazaar click here.
Saree Shopping At Pothys
There are plenty of textile houses in Pondy Bazaar to shop for Sarees from (Naidu Hall, Chennai, )but none as large as Pothys. The immediately noticeable green "P" logo can be found plastered on the side of their massive store on Usman Road. They opened as a purely saree shop and have now expanded into clothes for men, women, and children. However, their sarees are still their forte. The sheer range in terms of fabric, price, and style is hard to match and that's what made them popular. So if you're looking to buy sarees, we recommend coming here at least once.
Jewellery Shopping
The city's commercial hub also happens to be jewellery central. Traditional India has long been obsessed with stockpiling gold and big name stores like NAC Jewellers, Lalithaa Jewellery, Prince Jewellery and others cater to just that need. It's not uncommon for families to come spend lakhs of rupees on jewellery before weddings, and the recent years have seen no decline in those numbers as there are constantly more jewellery shops opening up. Younger audiences however are moving away from the gold craze of the previous generation and precious metals like platinum are more popular now. So if you're ever looking for fancy jewellery, you now know where to go.
Dinner At The Crown, Residency Towers
The Crown, Residency Towers is one of the highest and most luxurious restaurants in the city and offers a 360-degree view of the city with an infinity pool to boot (no swimming allowed though, strangely, but the view is still lovely). They're known for their continental fare, especially the sea food as it's all freshly caught and prepared. You'll get a bird's eye view of the entire city and a great meal. Don't forget to take plenty of photos!
Play Football At Tiki Taka
Chennai's largest covered rooftop football ground is in a tiny lane in T Nagar. It's hard to find places to play sport in Chennai because of how crowded the city is and we love that there are options like Tiki Taka that allow us to do so. The pitch is big enough for a 4v4 game and has synthetic turf laid on it. There's also a nice air conditioned viewing gallery as well as a section for video games. Amenities wise they've got clean toilets, showers, air conditioned locker rooms, mineral water dispensers and even a central music system to play your favourite jams. For more on Tiki Taka, click here.
Comments