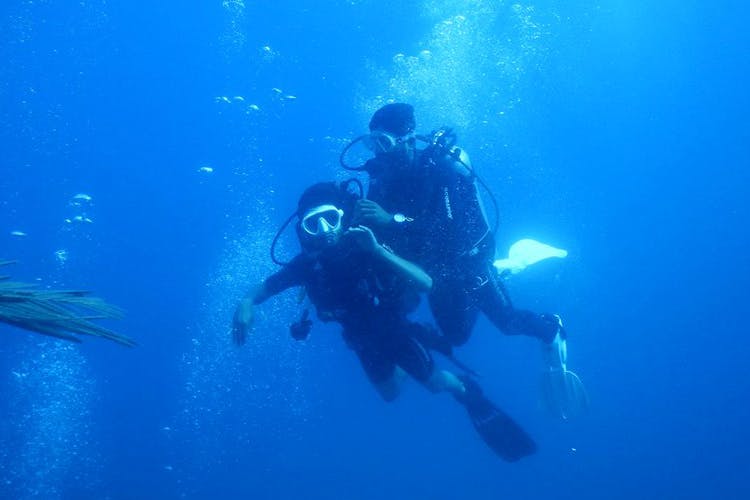 Planning A Couple's Trip? Head To Pondy And Do These 5 Things With Bae
For a slice of Europe, closer to home, Pondy has always been our exotic, quick getaway from Chennai. While we've been there with our squad or fam, here's some fun things you can check out with bae: V Day or not.
Shopping
Looking for a gift for each other? Do some gift shopping in and around Pondy — you can get lovely dresses from Anokhi and there's even a Hidesign flagship store where you can get leather bags and jackets for some crazy discounts. Yas! If you two are on a budget and looking for more discounts, check out Titanic for some export surplus shopping. Also, Mission Street is where you go to stock up on your shopping bags and eco-friendly, sustainable products are aplenty.
Read more here.
Cycle Tours
Go on A Wake Up Pondy Tour and fall in love (with the place, and maybe each other?)! Lovebirds who love travel and cycling, sign up, wake up early and cycle on! The tour starts at 7am and you can hop on to one of their quirky revamped vintage cycles and pedal through the picturesque town and capture the colourful buildings and bustling markets on frame (they have a professional photographer who will be joining you too). There's even an Afternoon Tour for you sleepyheads but is only available on Mondays, Thursdays, Fridays, and Saturdays.
Read more here.
Eat French Desserts & Tuck Into Seafood
Bon Appetit! What's the point of coming all the way to Pondy without stuffing your face with incredible desserts and fresh catches of the day, eh? For fresh baked breads and cakes, check out Bread & Chocolate. We love their vegan options such as their vegan affogato made with coconut ice cream, Mason & co chocolate and organic sugar. If you don't mind splurging a bit, the gorgeous Palais de Mahe hotel has a lovely restaurant that serves incredible seafood at the café and speciality coffees that is sourced from the neighbouring Auroville. Head here for a date to remember!
Check out more cafes here.
Auroville
Hang like a couple of tourists at this little township that is something like no other — people across different societal backgrounds, cultures and nationalities practice a peaceful life of sustainable living. Just a 15km drive from Pondy, go sight-seeing, visit ashrams, pick up handicrafts and even watch performances like fire shows and plays (most of them are free!) at their auditorium. You can even stay at one of their many cool, budget-friendly like this one here for just INR 400 per night!
Scuba Diving
A couple of daredevils, are we now? Take a leap a faith and dive deep into the cool waters of the Arabian Sea and gawk at the incredible marine life down under. Organised by Temple Adventures, they have 20 underwater sites ranging from 12m to 50m depth. And the best part? We hear you don't even need to get your own underwater cameras, you can get these guys to take a picture of the two of you swimming in the deep sea. Picture perfect, we think!
Comments