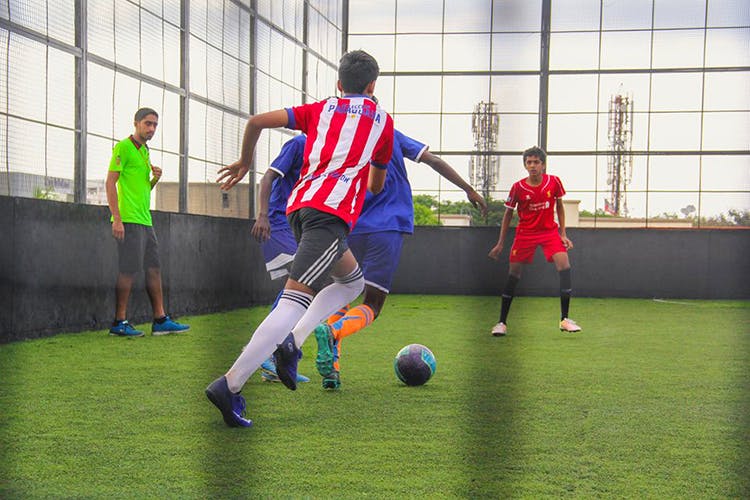 Play A Game Of Rooftop Football & Even Host A Party At This Sports Arena In Kilpauk & T Nagar
Shortcut
Kicking it off with a game of football with the gang? Count us in! Welcome to Tiki Taka, Chennai's first chain of indoor turf football facilities in Kilpauk and T Nagar.
What Makes It Awesome
Raise your hands if you've said to one of your high school friends, "I wish I could play football now. Remember how much fun we had in school?" Tiki Taka is here to bring back your football love with two beautifully maintained indoor turf football fields in the city, ideal for playing a 4v4 or 5v5 game. One in Kilpauk and the other in T Nagar. Oh, did we forget to mention, they're both on rooftops?
Their rates vary from INR 1,500 to INR 3,500 per hour (depending on demand and timing), which is actually affordable if you split it among 10 of your mates. The Kilpauk venue is an open-air one while the T. Nagar venue is covered (ideal for when it's raining). In addition to that, they both have floodlights, meaning you can play up to 12 midnight. Imagine how happy your mum would be if she knew you went to play football instead of late night partying on the weekends.
Tiki Taka offers more than just a place to play football. There are consoles to play Fifa in an air-conditioned waiting room for starters (yup, they host Fifa tournaments!). They've also got locker rooms, clean toilets, and showers, free bottled water, an air-conditioned viewing gallery overlooking the turf, a football academy to coach kids (and an adults program soon!) and even a tie-up with scouts from Germany and France who fly down to recruit talent!. The love for football is real and these guys show it.
So dust off your boots and head to Tiki Taka for the best footy experience since school!
Comments