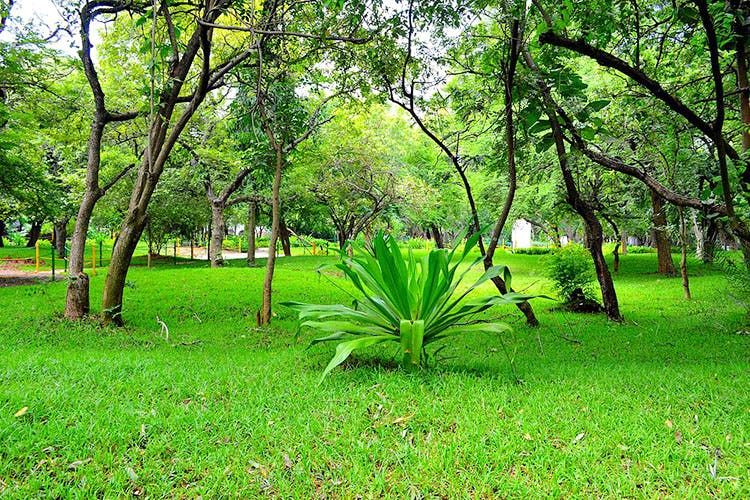 Looking For Some Quality Bae-time? Head To These Top Romantic Places In Chennai
We know how weird it is to have people giving all those judgemental looks at you when you are trying to spend some love time with your bae. Sometimes people just don't seem to understand love and sometimes, bae doesn't either. But, we have got your back. This city boasts of some of the best romantic spots and with this list, you can discover them with bae. Read on!
Theosophical Society
Nature is the best product of romance, don't you think? Away from the hustle of the city lies the serene grounds of the Theosophical Society in Adyar. Could a place be better than this where you could just spend hours walking hand in hand with your love? You will be surrounded by lush greenery and a vehicle-free zone. There is also a 400 years old banyan tree! Enjoy the glimmer in bae's eyes when you tell her that. You can also head to the library inside. After all, literature has been the language of love since centuries so why not feel a bit of Shakespeare in your life as well?
Guindy National Park
An ecosystem right in the middle of the city, Guindy National Park is a nature lover's paradise if you aren't looking too far to go. There are acres of lands filled with varied species of flora and fauna. You can take long walks and do bird watching. You might also find deer sprinting by sometimes. It is a world of its own just like your bubble love is! Photography is also allowed inside so click away for those Instagram hashtags.
National Parks & Wildlife Sanctuaries
Marina Beach
How can we forget the beach when we are talking about love? Fall in love all over again with splashing waves, warm sand and the distant sun in Marina Beach. It is probably the best romantic spots in the city. Take a stroll to the old lighthouse. You will be lucky to find yourself a hidden corner and believe us there are loads. *wink wink*. Dive into the varieties of street food available, food and stomach have the deepest connection. haven't you heard? You can also ride a pony, fly kites or just enjoy a sunrise or sunset in the horizon as water tickles your feet.
Broken Bridge
As mysterious as the mystery of love, Broken Bridge in Adyar is a city favourite. Once a bustling bridge, this place is said to have broken down in 1977 and was never rebuilt. Somehow it is intriguing. Some even call it haunted! While all of that may or may not be true, it is definitely a quaint spot away from the city chaos and has the perfect view of the sunset. There are even small thelas selling food that you can enjoy in the evening. Spooky or not, you should still avoid it at night though.
Muttukadu
Nothing better than to watch the magnificent cityscape of Chennai from the backwaters of Muttakadu. They offer different boating experiences like shared boating, speed boating and power boating. You can take a boat with your bae and escape to the blue-green waters right in the middle of the city. It costs as much as INR 50 and will take you from city outline to greenery canopying you. With a light breeze blowing through your hair and the sun setting in the backdrop, no place better than to have your 'Kuch Kuch Hota' He moment.
St Thomas Mount
Painting the sky with red and orange; the perfect colours of love, head over to St Thomas Mount in Triplicane and watch a gorgeous sunset with your honey! The hill will require a short hike to get to the top, which will give both of you the thrill of walking and spending some heart to heart time together. The place also has one of the oldest colonial churches atop the mount called the St Thomas Cathedral where you can admire the marvellous architecture and have a good time!
Prarthana Drive-in Theatre
Watch a movie from the comfort of your car! Cosy blankets, little cuddles and a movie night under the open sky. It is as dreamy as it sounds in Prarthana Drive-in theatre which has a blasting sound system and a powerful projector for you to get a clear vision. Requiring a drive along the ECR, it's best to arrive half an hour early to get a good spot for watching the movie. You can also plop by on the lawn and have a personal picnic or sit in their seaters. Whatever is the best for bae!
Comments