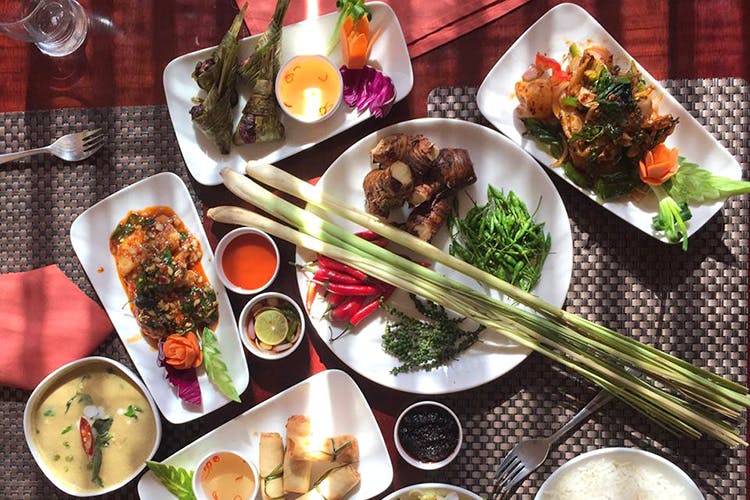 From Thai Food To Stationery Shopping & Catching A Performance: Here's What To Do On TTK Road
The ever buzzing strip between Crowne Plaza and the Music Academy junction, TTK Road offers everything from colourful kulfis to stationery and even yoga classes. First time here? Or probably hundredth? Either way, we're going to give you a hood guide of places in and around TTK Road in case there's still something new (or old) left to discover.
Food: Fine Dine At Chennai's Iconic Thai Restaurant, Benjarong
Benjarong has been around for quite some time, and still has a large fan following — for its Pad Thai, Lemongrass Tea, Raw Papaya Salad and so much more! Recently in November they had celebrated Thailand's Festival of lights — Loi Krathong, which they celebrate annually, so watch out for the next one! They offer a special menu around this time with dishes like Goong Pakchi Lae Prik — grilled prawns with chilli coriander marinade, rolled over on zucchini slices and Ayutthaya Boat Noodles Soup Phak — flat noodles in a spicy tom yum soup topped with vegetarian or grilled chicken breast. And for the rest of the year? Dig into their Glass Noodles and Pahd Prik Khing — lamb cooked in spicy red curry paste. Do drop by if you love Thai food with an upscale ambience.
Oh, but if you're looking for a cute, budget but authentic Thai food joint, check out Thai Food House for Bangkok vibes in Chennai!
Get A Quick, Late Night Roll At Roll Baby Roll
Looking for a quick meal after a heavy night of partying? These guys serve quick rolls on-the-go, so take your pick from Butter Chicken to Schezwan rolls. We'd recommend the Dilli Istyle roll if you like it chatpata. They even offer creamy Dal Makhani, Kadai Paneer and Butter Chicken curries to dip your rotis into. It's a small kiosk, so there aren't enough seats, if you're going with the gang that is, so it's best to get your order to go.
Bite Into Bread Omelette At Royal Sandwich
For delicious assorted sandwiches, check out the popular Royal Sandwich Shop where the sandwiches start at a mere INR 50 including our favourite bread omelette. You get everything from cheese, egg, chicken, paneer, gobi to even chocolate and ice-cream versions! And if you like some crunch in your sandwich they have bhujia, nuts and khakra sandwiches. Talk about being innovative. The place is pretty small, but you do have a few chairs and tables. Perfect to come by for a quick, evening snack, we think!
Tuck Into Bakes & Cakes At The Old Madras Baking Co.
Walk in, get a whiff of the fresh baking dough and fall in love! We love the sweet, short menu at Old Madras Baking Co. Get a loaf of all kinds of baked goodies – from delicious banana bread and chocolate chip cookies to bagels and cream cheese, head here especially if you have an insatiable sweet tooth. But hey they also whip up sandwiches and salads (if you're watching your weight). Oh and how cool is this – they even offer a specialty bread subscription service that you can check out here.
Destroy The Freakshakes At Chocolate Heaven
You'll need the gang for this one, guys! Unless you're lord of the gluttons. This dessert parlour offers a whole range of chocolate desserts that'll probably induce some kind of choco-coma. If you have a ravenous appetite for sweet, extravagant desserts try their signature Wagon Freakshakes at INR 300. One of them includes the Chocolate Mud Pot – a milkshake in a chocolate coated jar with Belgian waffles chocolate sticks, ganache and a tower of whipped cream. They also offer chocolate fondue, so go on and dip marshmallows and tangy berries in this sinful, gooey concoction.
Slurp On Colourful Kulfis At Kulfi House
This cute kulfi parlour with wooden chairs and fun art on the walls is your best bet to get your kulfi fix here – they have over 50 flavours! Choose from chocolate, malai, guava and more. Oh and they also have special flavours like gulkhand, tender coconut and meetha paan. Perfect even in winter, thanks to Chennai weather. They even offer faloodas and milkshakes but we're most excited to try their chocolate pani puri —  yes, sounds intriguing doesn't it?
Shopping - Get Funky, Comfy Slippers At Methiyadi Shop
You must add these colourful, trademark rubber slippers (from Kerala) to your wardrobe. Cool and comfy, they come in all sorts of colours and even style variations. Drop by this small store on CP Ramaswamy Road and fall in love with their cute collections. You can find normal colourful flip flops in both basic and bright colours (some are even on discount), but we'd recommend you own a proper pair of Methiyadi chappals — the one with a band over your feet and a button between your big toe and second toe. Before you go in do check if they have Alicia Souza's collection in store— because they are the cutest!
Deck Up Your Personal Space With Décor From Home Centre
From cosy blankets to bright,cheery toiletries like liquid soap dispensers and toothbrush holders to even sofa sets, this huge Home Centre is where you go if you're in the mood to do up your home. Turn your house into a home, people! We found some affordable products here such as tea lights and tea light holders for under INR 300, string lights for INR 299 and metallic table lamps for INR 1,299. They also offer colourful bed blankets for 1,299 and bright cotton towels for INR 599 and although technically not budget shopping, the products here will definitely add a touch of class to your home.
Stock Up On Stationery At A Premier's Stationers
Hoard all your art supplies and fun stationery items from this shop on TTK Road that's been around for ages — 25 years in fact! Get everything from colourful pens, chart paper, file holders and even good old greeting cards. Need to wrap a gift? Find coloured paper for a project? Hold all your files together? Just drop in here between 9am and 9pm and find everything you need!
Things To Do - Catch A Performance At The Music Academy
From dance festivals to classical concerts, enjoy a range of performance at this iconic cultural centre that has been around for over 75 years. If you want a dose of culture, here's where you go! Students of many dance and music schools host performances at this iconic building, so do check out their schedule on their website to know which performance you'd like to witness — Mohinayyattam, Bharatnatyam, Carnatic music recitals and more!
Take Yoga Classes At 136.1 Yoga Studio
If fitness is always on your mind (especially with the new year and all) check out this yoga studio if you want to engage in some life-altering asanas and yoga your way into good health this year. They offer weight loss yoga for those interested but if you're someone who spends way too long at a desk job try Restorative Yoga and yoga for the lower back. They even offer personalised yoga classes, pre natal yoga and even yoga for kids. For more yoga studios in the city, check our list here.
Attend An Exhibition Or Drink Up At The Pub In Crowne Plaza Chennai Adyar Park
Crowne Plaza Chennai Adyar Park has hosted a number of exhibitions in the past like the popular By Hand, From The Heart makers market which showcased everything from contemporary jewellery to aritisanal cheese. If they're not hosting an event you can even drop by their pub, Gatsby 2000 for a drink or two. It's a pretty big pub with two floors and a bright neon setting. Saturday nights are usually pretty packed and they play Bollywood and Kuthu tracks so expect a lot of people on the dance floor. If you like things more quiet, head here on a weekday instead.
Unwind In A Sound-Free Pod At Chennai Floats
Not exactly on TTK, but close enough in Abhiramapuram, Chennai Floats is the first floatation tank centre in Chennai that lets you switch off from the rest of the world in a pod. This floatation tank is said to have a calming effect on the mind for people who are especially stressed; the buoyancy even soothes tired bodies that undergo rigorous fitness training. Care to try?
Did we miss something? Let us know in the comments.
Comments