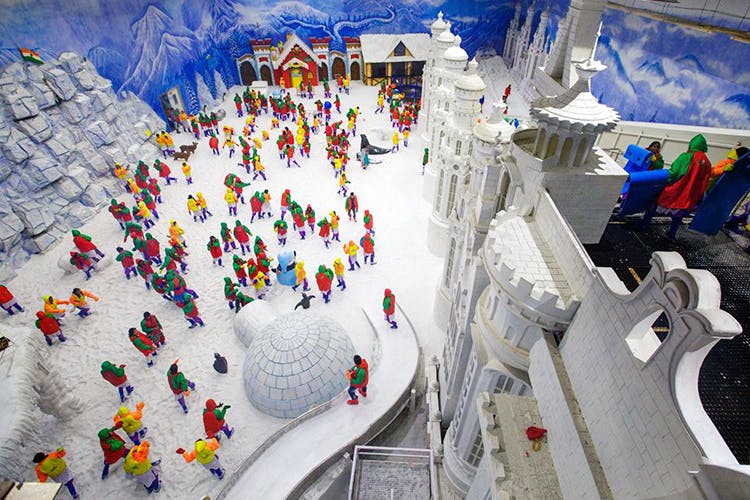 We Found Snow Right Here In Chennai And Here's Where You Can Find It Too
Shortcut
Is the Chennai heat too much for you to handle? Do you not have the time to travel to the hills to get some chilly weather? Don't worry, because we got your back. We are taking you for a trip to VGP Snow Kingdom right here in Chennai which is open to all age groups, and doesn't need you to travel to the Himachal.
What Makes It Awesome
The VGP Snow Kingdom is a snow amusement park on the East Coast Road which opened its door a year ago. Ever since then, it has become reasonably popular, and a major tourist attraction especially among families and children. This snow park is located right next to the VGP universal kingdom in Injambakkam. The Snow Park is really top-notch, and is on par with the best snow parks in the country. Although they offer high quality, the prices are quite nominal, making it affordable for a student or a family on a budget.
Your entry ticket, apart from the 30-minute access to the snow zone, includes a thick jacket, gloves and socks & boots, which is available in different sizes varying with age group. You could even buy some hot filter coffee as you freeze inside the snow park. Get your friends together to indulge in a snowball fight or climb a snow mountain and slide down a giant slope on a tire. They even play funky music and have a room for you to de-freeze and come back to the snow zone after getting some warmth.
Right outside the snow zone, the park also offers food stalls for you to grab a bite. These food stalls vary from Madras Coffee House to Mad Fries (a kiosk selling different kinds of fries). Not only does the complex have the snow park, it also hosts India's first 3D art museum, a wax museum and a vintage camera museum. Watch out for the combo ticket which could get you into all these three attractions.
The VGP Snow Kingdom is bang on ECR, 20 minutes further down Adyar and Thiruvanmyiur, and closer to Akkarai. Plenty of buses go in that route, and the park has ample parking space, although they charge a nominal parking charge. Make sure to wear some warm clothes before visiting this 1-degree zone right here in the city!
Price: INR 450 for adults, INR 400 for children