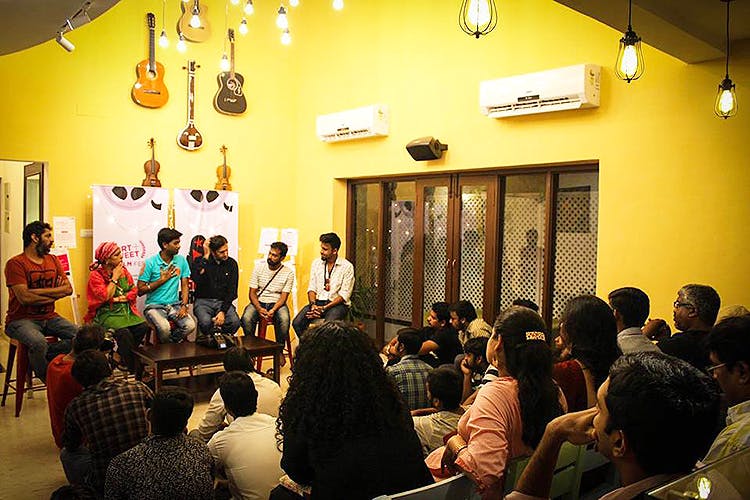 Right-Brainers, You're Going To Love This Cultural Hub For Artists In RA Puram
Shortcut
Wandering Artist, housed in a large white and airy bungalow, is likely to fast become one of the city's favourite spots to learn about and experience a variety of art and cultural forms.
What Makes It Awesome
In the middle of leafy, quiet residential RA Puram lies a space that aptly calls itself a cultural hub. With its warm facade, a colourful, painted gate and a striking, orange and black signboard, Wandering Artist draws you in immediately. Exposed light bulbs hang from the high ceilings, guitars are perched on walls and bright stairways flooded with natural light are punctuated by lively abstract art, masks and retro posters of Hindi Cinema. The decor screams hipster but in a comfortable sort of way. The ground floor is a striking space with a dramatic but inviting bright blue wall and is soon going to house a cafe.
WA conducts an astonishing array of classes through the week at affordable prices — from Kathak and Hindustani vocals to pottery, theatre and painting for children and adults. Spacious, well-lit rooms on the first and second floor serve as the classrooms for the workshops, and the dance studio is large and equipped with floor length mirrors. The building also includes a cosy co-working space that is ideal for those who wish to hot desk either for a day or two or on a monthly basis.
Every week, the hub hosts a performance in its 60-seater auditorium. From folklore storytelling, theatre and comedy to Hindustani vocal recitals, poetry, western classical music, and photography, there is no limit on genre, type or origin of artistic expression showcased here. The gatherings are intimate and allow for interaction with the artists, which would prove particularly difficult in larger and more formal performance settings.