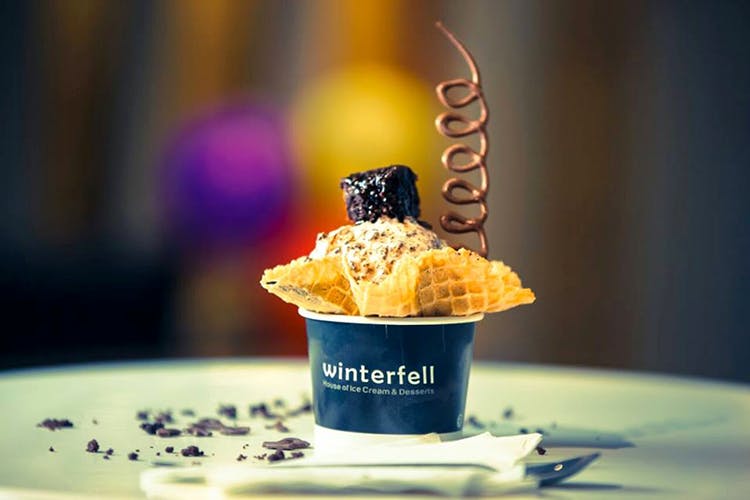 Chennai Peeps, Have You Checked Out This Game Of Thrones Themed Dessert Parlour Yet?
Shortcut
Winterfell is Chennai's very own Game Of Thrones (GoT)-themed dessert parlour with a massive menu and 40 plus toppings to choose from.
What Makes It Awesome
Well, sort of. With two outlets in the city, Winterfell is a quaint dessert parlour that has effortlessly inculcated the Game of Thrones connect through its quirky interiors. You're instantly hit by GoT references as you walk in to this place. Even their 'push' sign on the door has a Hodor pun (ah, this one still hurts).
There are also posters of sigils and words of houses from the show, and an artsy wall full of murals with popular GoT references. They also have non-GoT sketches of their loaded monster shakes. The seating area is quite small, though comfy and simple with a mix of sofas and chairs.Winterfell has a lot going on for its customers, in terms of choice, but the menu has no real connection to the series (which was a bit disappointing). The menu kick-starts with their signature Stone Creations in five different concepts like dark, fruity and nutty, etc. each having their own host of choices to choose from. They also have some classic sundaes that are big, heavenly and yummy!
If monster shakes are your thing, then Winterfell is the place to be. They proudly flaunt their Instagram worthy shakes that are an absolute delight! I personally recommend the Sweet and Salty Shake to those who love salty caramel and The Chocolate Bar Shake to chocolate fans out there. But I have to say, the most interesting thing on the menu is undoubtedly the Ice-cream Tacos! It's a taco-shaped waffle shell stuffed with ice-cream and the cutest toppings. Definitely worth a try! Apart from desserts, the place also sports a tiny savoury menu for those sans a sweet-tooth.
Comments