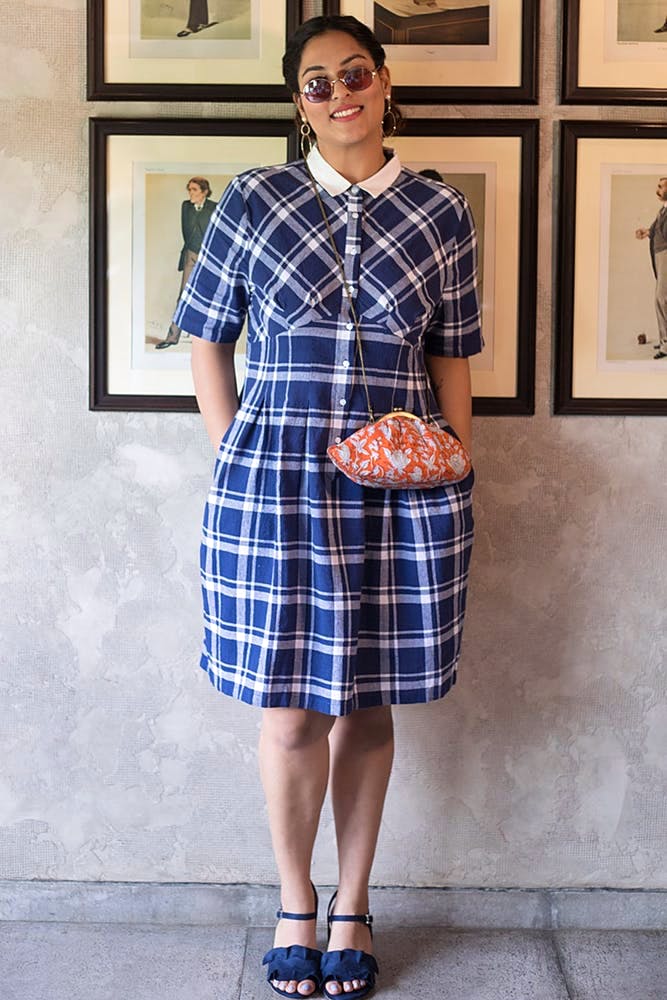 All You'll Need For A Monsoon-Friendly Wardrobe!
We get it- monsoons is the antithesis of all things fashion. Frizzy hair, oily skin, sweat... and argh! But we've cracked the code to monsoon-friendly dressing that'll keep you dry, stylish & happy, even on a gloomy day. Up ahead, find dresses made with light fabrics, darker hues (to avoid water stains), and free flowing fits.
V-Neck Shirt Dress
Choosing the right silhouette is really important - steer clear of tight-fitted, full-length dresses and make way for A-lines, midis and the like. This V-neck shirt dress is a stunning option on days when it's pouring but you HAVE to go into work. The button-down detail makes it look formal, the fit doesn't fuss around your curves and the solid black is great for hiding any water stains. For this price point? Hit add to cart stat.
Blue Trench Dress
If you've been following PC's style post marriage, you know about her trench dress obsession. This uber-chic number by June Studios upgrades the basic Burberry print to offer classy blue checks. The best thing about trench dresses is that they make ANY body type look in-shape and the stylish button detail adds a hint of formal too. Made with super breathable & non-transparent fabric, this one's a must-have!
Floral Skater Dress
There's no better way to lighten up the gloomy weather than to sport some eye-catching florals! This midnight blue skater dress is gonna become your go-to for all your instant brunch plans and dinner dates. It gently accentuates the waist with a belt (that doesn't stand out) and the short length avoids any mud fiascos (looks kinda sexy too!) Pair it with white heels and slay every.single.time.
Ikat Shirt Dress
Obsessed with Ikat everything? You're gonna love this navy blue shirt dress from Threeness! We're digging the button-down detail and classic collars combo - its just right for events that are neither too formal nor too casual - perhaps, a work lunch? The fringe detail at the hem keeps things interesting too.
Pro-tip: Wear it out in the rain with a trendy pair of puddle-free shoes (we have a whole list for that too, go check it out).
Contrast Shirt Collar Dress
If you're anything like Instagrammer @stylemeupwithsakshi and love to switch it up every now and then, you'll love this cute preppy outfit! Made using 100% cotton, this chequered dress fits really well and is super easy to pull off. Plus that contrasting white colour is everything. Make it your next purchase this monsoon, because, yes, it's a worthwhile investment you'll wear for years to come.
Polka Dot Button Down Dress
This button down dress from Zachi has been crushing it on LBB! I kid you not, our DMs have been flooded with orders all season. People are loving the button-down style, the adorable polka dot print and ofcourse the flattering fabric that makes ANYone look bomb af! It features a straight fit (not too tight) and fits equally well into your work AND you weekend wardrobe. Carry a chic sling with it and be ready to turn heads everywhere you go.
Auto Cold Shoulder Dress
Bringing back the cold-shoulder trend, this airy dress is an amazing pick for a pouring day. It's long enough to be HR-approved and short-enough to be puddle-resistant. The auto motif adds a hint of quirk too. Pair it with interesting earrings but remember to go for minimal, dainty styles so you don't get bogged down when drenched.
Happy Shopping!
Comments