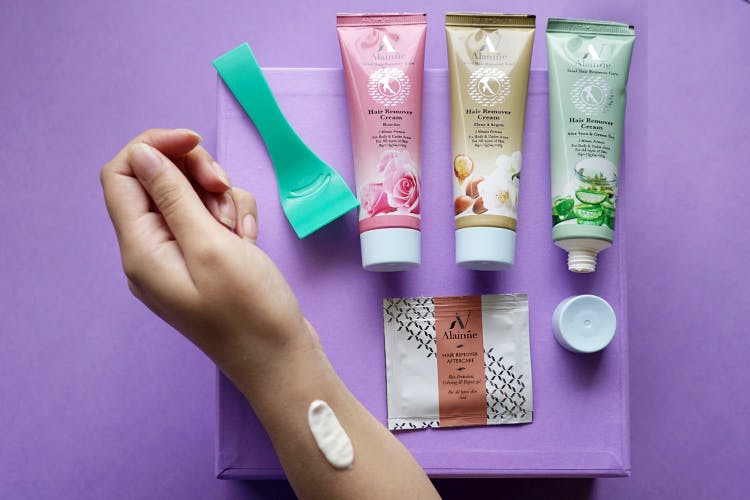 Ladies, Have You Tried This Unique Hair Remover Kit From Alainne Yet?
Shortcut
Tired of your parlour aunty taunting you for not taking care of your skin & unwanted body hair? We found you a much safer, natural and easier solution by Alainne to get rid of unwanted hair with this one-of-a-kind hair remover. And it's pocket-friendly too!
What Makes It Awesome
Love grooming but hate to take those parlour appointments? Also, ain't nobody got time for that painful waxing and shaving hassle. We found an easy solution that will solve your skin & hair related woes. Alainne's hair remover kit is not just another cream but an entire kit that comes with a spatula and a soothing serum for the perfect post-care.

These unique hair remover kits come in 3 different types- Roseate Hair Remover Cream, Aloe Vera With Green Tea Hair Remover & Argon Hair Remover Cream. Alainne products come packed with natural ingredients like Aloe Vera & green tea which have both medicinal and antioxidant properties, helping your skin maintain its moisture, leaving it smooth and healthy. The Argon cream is scented with a blend of jasmine and lilies, leaving a sweet fragrance post the hair removal.

The process is extremely easy-peasy, all you have to do is apply the remover cream with the spatula and spread it evenly. Leave the product for around 7 - 8 minutes, rinse it with water and apply the Hair Removal After Care Serum. Voila! Flaunt your smooth skin with minimum irritation & pain!
Comments