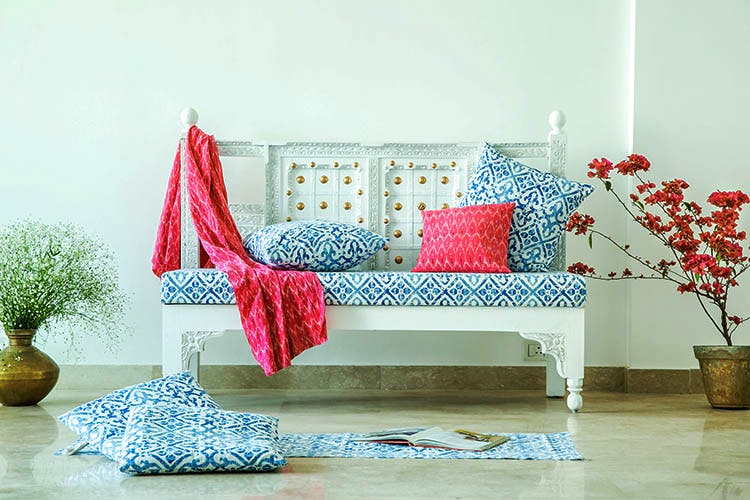 This Brand Does A Great Job Of Up-cycling Furniture You No Longer Use
Shortcut
The Second Wind in Gurgaon is breathing fresh life into old furniture and home decor that we can't discard but can't use either. This apart, the design studio is also into full-fledged interior design. The best part: They're equally good at both. 
Tyred And Tested
Part whimsy, part practical, this novel venture is restoring our faith in old-fashioned up-cycling. Inspired by their super resourceful grandmother who magically turned saris into blankets, tattered tees into rugs and plastic bags into flowers, Abhinav and Ira decided to roll up their jeans and have a field day themselves.
Their poison of choice? Home decor. They have an overworked warehouse in Sector 53, Gurgaon where they turn headboards into benches and landfill tyres into poufs. The transformations are indeed spectacular – we still can't get over this crib-turned-bookshelf. You can either order these beauties online or hit them up for custom orders. 
Reclaim Sustainability
Everything on their page defines happiness in a way that's very intangible. Think of it like the ultimate comfort food or a comic book marathon. Teal-coloured side tables carved out of reclaimed wood reassure us that no trees died during our home makeover and the whole up-cycling spin in general is a quality we adore. 
In short, we're making a mental note of all that we would like to see in a new light alongside lusting after this particular drawer that'll hold so many odds and ends.
So, We're Saying…
Give The Second Wind a chance if you're clueless about where to begin with setting up your pad. Or start small and give them a go at that rickety table you can't throw because it reminds you of your granny. 
Comments