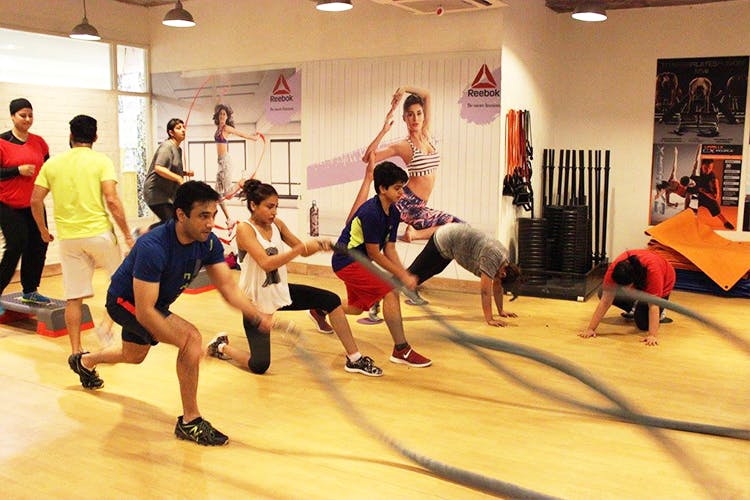 Pole Dancing & 4 Other Workouts To Try This Summer
If you continue to do what you've always done, you'll continue to get what you've always got. The easiest way to see changes in your body is to shake up your workout routine by cross training and incorporating different muscle groups. I am constantly looking for new classes that will keep my muscles guessing and help tone and sculpt my body. Here are my recommendations to help you get closer to your #bodygoals .
Parkour
Parkour is the newest workout on the block. It is a training discipline used to mimic the military style training. A typical parkour workout includes jumping, running, swinging, vaulting and requires a great deal of precision. It works your reflexes and reduces reaction time, improves flexibility and balance. Abhishek teaches Parkour at Delhi Rock over the weekend and I highly recommend it. Please carry a towel, some snacks and a bottle of water.
Find out more here.
Kickboxing
Gigi Hadid and other Victoria's Secret models swear by kickboxing. The classes at Boxfit are suitable for all ages and people of all fitness levels. They have technique classes as well as kickboxing workouts. The studio plays Drake, Kendrick Lamar and a little bit of Fat Joe to get you in the groove. The instructors are highly qualified and pay close attention to your posture when you are training to help prevent stress-related injuries.The classes start with a warm-up to help prime your muscles and prepare you for the workout. Workout gloves and boxing bags are available at the studio so you just need to ensure that you eat adequately, bring a towel and a bottle of water for hydration.
Find out more here.
Figure 4
Sukhmani Dhupia is an enthusiastic trainer that takes the figure 4 classes three times a week at the studio. The class is an amalgamation of HIIT, bodyweight training and some resistance training in an easy to follow format. The 60-minute workout works your legs, sculpts your midsection and your derriere. Expect a lot of push-ups, jump squats, burpees and plank challenges. I can see a noticeable improvement in my legs and my derriere. Please carry a towel and a bottle of water.
Find out more here.
Pole Fitness
You don't have to be at a bachelorette to attempt pole fitness. You now have a studio that offers the same much closer to home. Vesna Jacob likes to switch up her workouts and offer different fitness solutions to her clients to keep them motivated and get them closer to their goals. Pole Fitness is a new addition but I have to admit that it is a lot harder than it looks. It works on making you leaner, taut and toned and it requires a lot of core and upper body strength. After a few failed attempts, I was pretty ecstatic when I managed to get onto the pole. Mind you, this will leave you feeling all kinds of sore the next day. The best bits- they have five poles starting June so it is a great way to spend the afternoon, learning a new skill and burning calories with your girlfriends.
Find out more here.
Comments