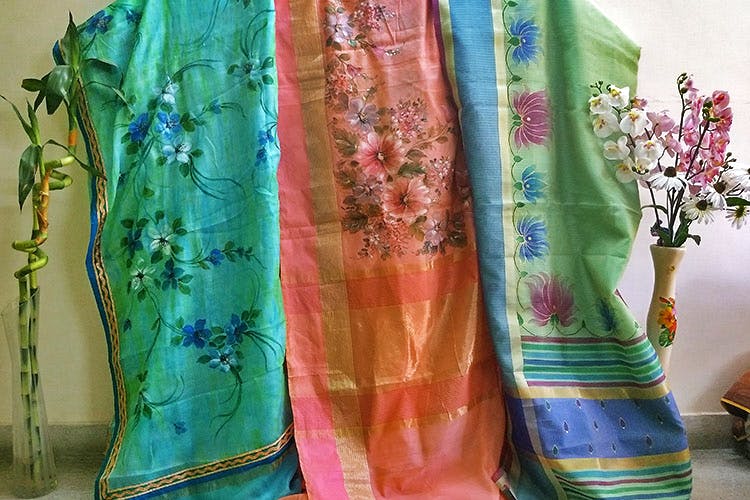 Our Neighbour Aunty In Noida Hand-Paints Gorgeous Saris, Dupattas & Kurtas
Shortcut
Soni Goyal, our friendly Noida neighbour has been painting for a decade now. She has a range of saris, dupattas and even kurtas that are all hand-painted and super summery.
What Makes It Awesome
She works from home but is sweet enough to have us eager sari buyers over for a look-see. All her designs are intricate and remind us a little of bone china plates or Chinese painting brush strokes. So, it you're someone who likes delicately-done floral patterns and soothing hues, you're going to dig her clothes.
She also supplies to Raisons kind of stores (and one of our favourite cloth stores in GK) and puts out her stuff at exhibitions in Agha Khan Hall every now and then. But the best way to catch her is in the comfort of her home – most of her sales are through word of mouth (this is exactly how we found out too!).
Like most tech-hating parents, she is only warming up to Facebook and has a page that she intends on populating as she goes along (her children are really encouraging her to take the bull by its horns, yay!). Wait a few days and you might see more of her designs or you know you can always WhatsApp her to send photos of her latest works.
The price for the dupattas start at INR 1,500 and INR 4,000 for the saris.
What Could Be Better
Making a trek all the way to Noida is a bummer, but her work is so worth the effort.
Pro Tip
If you have a particular design in mind you want her to recreate it or have a plain sari you want jazzed up, give her a call (+91 9873001954) and drop by her house in Noida. She usually also keeps ready pieces for you to pick up.

More Information
Soni Goyal Handpaint
Nearest Metro Station: NOIDA SEC 15
Comments