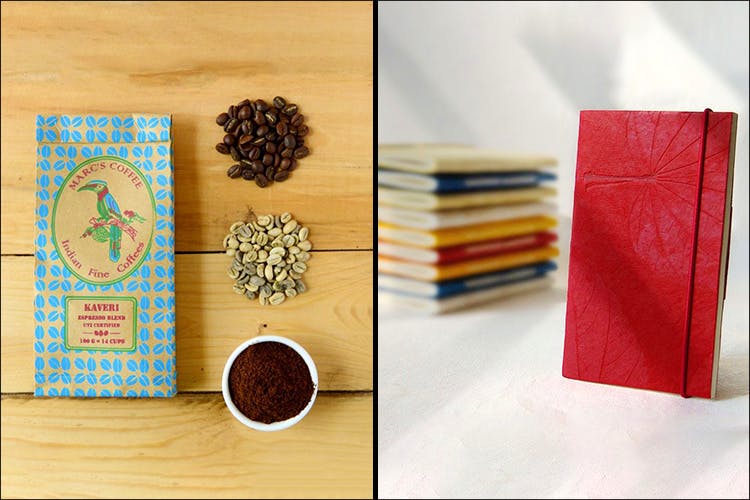 Auroville Has An Online Store & It Has Got Recycled Diaries, Jams, Earrings & More
Shortcut
Auroville.com is an online store that retails clothing items, home decor, stationery, jewellery, food and even musical instruments most of which, are manufactured in Auroville.
What Makes It Awesome
We love our stationery and whenever we come across brands that do minimalistic notebooks and folders with handmade paper, we just want to get our hands on one pronto. When we first saw the notebooks on Auroville's website,that's exactly what we wanted to do.
They offer different kinds of notebooks with leafy patterns, spray-painted notebooks and even diaries with indigo dyed covers. They also have rustic-looking photo albums and folders, all of which are made out of cotton or vegetable fibres and are also priced economically.
Food is another one of our weaknesses and we're definitely eyeing Auroville Online's handmade food items like the Kaveri Blend Coffee from Coorg (Kaveri river flows close by), Masala Tea from Auroville, jams like grape, plum, guava mango, among many other yum condiments and sauces. Flax crackers, dehydrated bananas, vegan biscotti are just some other healthy nibbles you can binge on at work.
Impressed already? Well, there's more. Auroville online also offers natural jewellery made out of seeds found generally in south India. They also have paper and gemstone jewellery that are equally pretty.
What Could Be Better
At the moment, they do not offer a cash on delivery option. This, we feel, is a bit of a bummer.
Comments