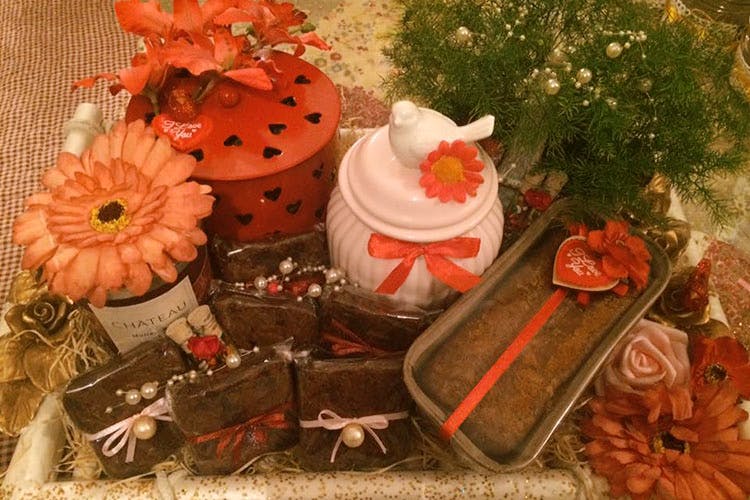 Baby Announcement Or Wedding Invites - This Bakery Does Yummy Customised Gifts!
Shortcut
A labour of love and a background of 25 years of baking is what makes Lahja Gifting a brand that's grown leaps and bounds only by word-of-mouth. From baby announcements to elaborate wedding invitations and party favours, Lahja makes customised gifting super easy.
It Began With A Bakery
What started out as a passion project fuelled by a love for baking became a brand that G-Towners identify as one of the finest home bakes in their city, Lahja is the go-to bakery when you're craving fresh, familiar and comforting cakes and cookies – their Mississippi Mud Pie is legendary.
If you want to know the real difference between mousse and soufflé, let Lahja teach you; the Mango Mousse and the Almond Souffle here are silky smooth and fluffy because the ingredients are fresh and the cream is real. Speaking of real cream, try the Orange Sandwich Cake for your next special occasion – it's both delicious and decadent. For tea-time, try the dry cakes of which we loved the Date & Walnut and Apple Cinnamon the most.
Anything Else?
They're also famous for their packaging. Adorable floral motifs and pretty bows and ribbons, Lahja does a great job of announcement gifts, party favours and giveaways. Mix and match with cookies, dry cakes, artisan chocolates and don't forget to add their Granola Mix which has all the goodness of nuts, dried fruits, berries, pumpkin seeds and rolled oats.
So, We're Saying...
The next time you need to announce something big, celebrate an occasion or honour a festival, do it with an edible gift from Lahja and leave an indelible impression on your friends and family!
Comments