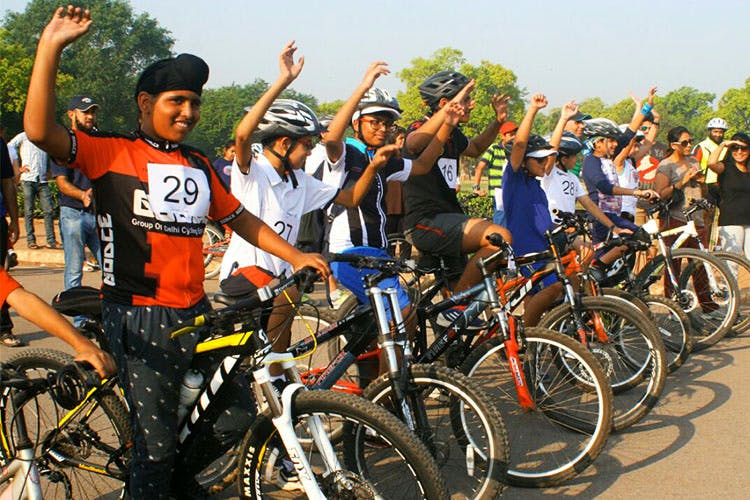 Explore & Exercise: Rent Bikes In Delhi From These 5 Places
Need some exercise or just want to spend a weekend exploring the city on a cycle? Here's where to rent a bike in Delhi.
Rent Set Go
In this era of technology, obviously there has to be a site that would get you your desired bike sitting at your home. Rent Set Go provides cycles of all brands such as – BSA, Btwin, Firefox, GT, Hercules, Hero, Trek, at costs as low as INR 110 going up to INR 1,000.
Find out more here.
Planet Green Bikes
These 'Planet Green Bikes' Docks are present across 14 locations in Delhi and are the most preferred by the customers. The process as to how to rent one is simple- you first need to register through the app or the website, a smart card will be issued to the registered users. You can then go to the nearest dock and rent a cycle using your smart card or the app, and lastly trip ends when you return the cycle to any of the nearby PGB stations. The rental costs are INR 10 per hour, after the first 30 minutes.
Find out more here.
Green Ride
Another legit place to rent bikes in Delhi would be Green Ride that offers cycles by Delhi Cycles Private Limited. You can avail for their services by filling up their form online and then depositing it in their substation, for which these are the necessities- a valid ID, such as, a student's ID if you're a student or a working ID if you're a job-holder in Delhi respectively or Aadhar card, and a passport size photo. Attending the verification call that will be made after about two days is a must or else the issuing of the card will be delayed. Then the card will be issued to you that will help you pick a cycle on rent, track your ride and return it in any of their stations once the ride is complete.
Their rental costs are INR 5 for every 30 minutes at Rohini, and free for the rest of the areas.
Find out more and register here.
Cycledelic Sports Shop
If you're residing in the north campus or the famous Kamla Nagar, Cycledelic is your best bet for bikes on rent. They even have MTB and hybrid cycles for enthusiasts. The rental fee is INR 500 per day, with a security deposit of INR 5000-10,000. Also carry a valid ID proof like passport, Aadhar card or Voter ID, pan card.
Comments