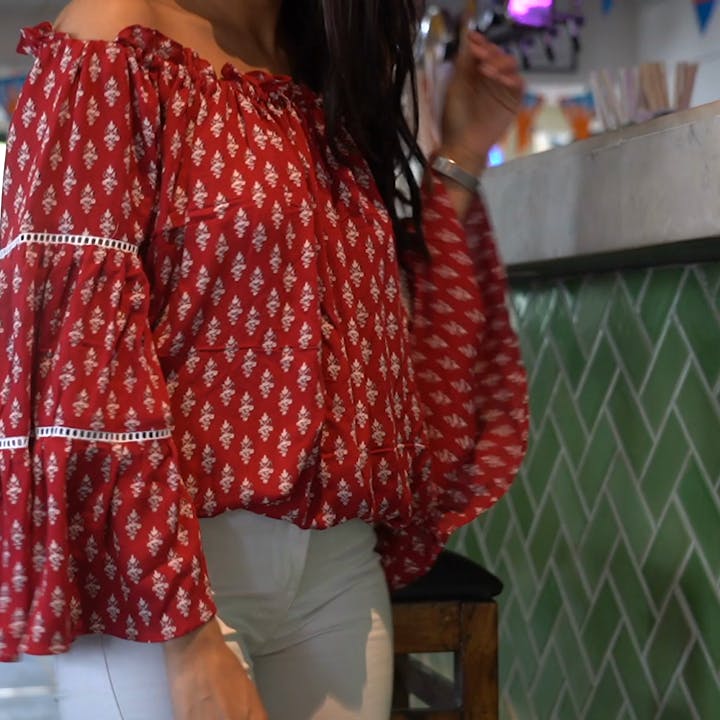 This Casual Outfit Will Make Heads Turn
When trends change by the minute, it becomes super hard to stay on top of the game. And being an actress doesn't make the struggle any easier! I'm constantly searching for on-trend styles that look casual & effortless - so when I spotted this gorgeous outfit on LBB, I didn't find myself second guessing. Scroll down to see how I styled it...
Off-Shoulder Flare Sleeves Top
Off-shoulder tops haven't gone out of style since the 90s and this vibrant number by Babhru explains why! Made with a flattering rayon crepe material and stitch detailing, we promise you - this one's never gonna get old (or tight). My favourite part? The ruffled flare sleeves - SO chic! It's really easy to pull off too - I wore it with white denims but you can go for cutesy shorts, tuck it into high waisted pants or even wear it with a skater skirt.
Polka Dot Slides
Spot-on styling, right here! These polka dot slides perfectly complement the ruffle detail of the top and the white on white vibe looks rad. I found this great Indie brand on LBB - ShoeThatFitsYou and trust me girls, this one lives up to its name. The rubber sole keeps your feet cushioned and lets you dance the night away!

Pro-tip: It's a great alternative to those white sneakers you've been wearing on repeat. It'll go will all your casual outfits and make 'em pop!
Comments