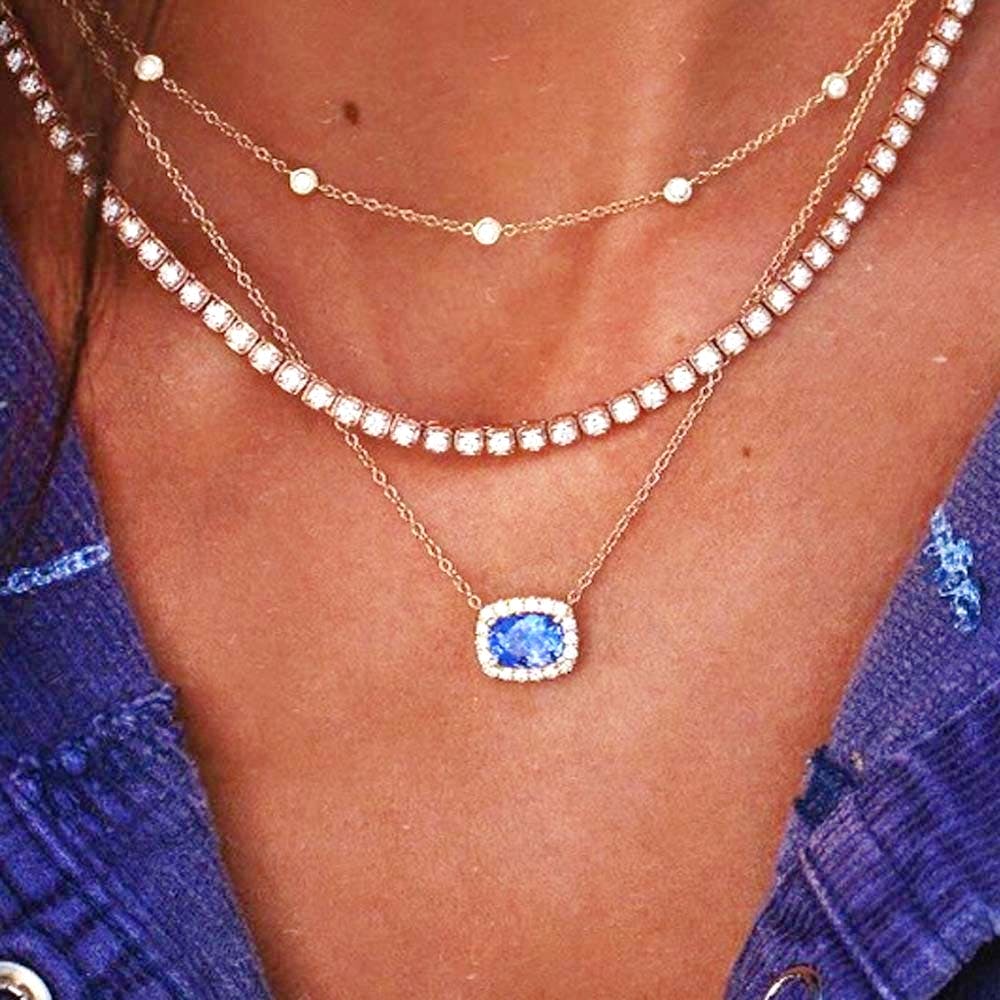 Do It For The 'Gram: How To Layer Necklaces Like A Pro
When curating an unforgettable outfit, clothes aren't the only thing you should focus on getting right. Your accessories have to be spot on too. Introducing: Layered Necklaces. If you're mad over minimalist aesthetics, you have to get on board with this trend before it's labelled "outdated." It adds a hint of magnificence to whatever you throw it on with- a plain old white shirt, a block printed tunic, or a glam LBD look.
We've got all the lengths, shapes, and styles you've been looking for!
Pearl Layered Necklace
Stylish and straight-up chic, this pearl necklace is every minimalists' dream. It features a 14-inch long chain of authentic brass that wraps around your neck like air- it's really that lightweight. I've seen it best worn with cutesy crop tops, classic white shirts or even stunning dresses that require just a dash of bling. P.S. It comes in shiny white pearls too (yay!)
Glitter Stars Pendant Necklace
We're lashed out by this glittery number from The Jewellery Junkie's collection 👁‍🗨The not-so subtle gold chain is sure to dial up any outfit in an instant. And the expensive looking crystals are available for a jaw-dropping price on LBB. Get your hands on this beauty before it's gone.
Abstract Stone Necklace
Tired of the same ol' gold & silver embellishments? Switch up your accessory game with eye-catching gemstones. This one features a shiny black stone on a gold base that's perfect to make solid, demure dresses stand out. Pro-tip: Wear it with classy black strap heels and make any look pop!
Palm Tree & Shell Necklace
Seas the day 🌴 This stunning number weds the shell and layered necklace trend to curate one of the most #instaworthy accessories we've laid eyes on this season. The gold-plated palm trees have our heart! The chain length extends up to 26cm - perfect to wear with plunging necklines and cutesy bikini tops. It's selling on LBB at 45% off and you canNOT miss it.
Crysta Layered Necklace
Delicate and stunning, this dainty necklace combines a gold choker with a tiny-yet-unmissable star pendant. The monochromatic gold looks mad awesome against darker hues and when paired with minimalistic studs? You'll be breaking hearts.
Leaf Layered Necklace
There's no better time than summer to sport some pretty florals. This leaf-y piece from Pipe Bella's trinket collection is like wearing a scarf of gold around your neck. If you're looking to dial up your look but wanna keep your clothing basic, this one's an excellent choice. Wear it on a solid white/black or really any coloured tee and rock a basic look!
Crystal Layered Necklace
Our next guest (read: layered necklace) needs no introduction! It's a classic three-layered necklace featuring shiny crystals that look SUPER expensive but are selling on LBB for INR 599! What's more? The eye-catching blue pendant that's going to become the heart of every outfit you wear.
Comments