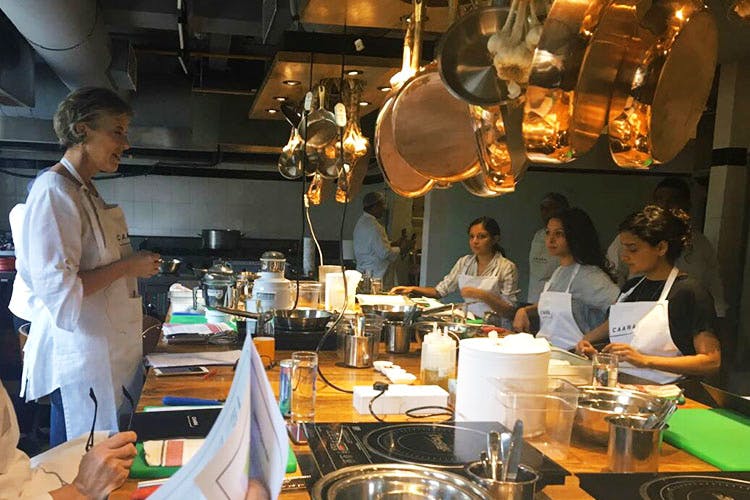 Nearest Metro Station:

SAKET
From Desserts To Buddha Bowls: Learn, Cook & Eat Healthy At CAARA's Cooking Classes
Shortcut
CAARA has recently launched The Cookery School at their base kitchen in Saket. We've attended one and are happy to tell you they're clean, informative, and a lot of fun. Their prime focus is healthy food, without taking away from the taste (yes, it's possible!).
What Makes It Awesome
I attended one of their Health & Wellness workshops, conducted by Michelle Kalsi of Georgia Dakota. The class started dot on time (if it's at 11am, we suggest you get there at 10.45). The kitchen itself is spacious, with plenty of natural sunlight streaming in, plants aligning the windows and fancy copper pots and pans hanging above the large table, where all the action happens.
You're given aprons, paper and pen to take notes, printed recipes and of course, all the equipment and ingredients needed for your masterchef moment. They try to fit in as many recipes as is comfortable for amateurs and experts alike, within three hours. The staff is super helpful and pre-measures the ingredients you're going to need, thus saving you time and effort during the learning process. The chef (Michelle, in my case), takes you through the recipes patiently, explaining everything, providing alternatives to ingredients, sharing fun anecdotes and helping you be the best cook you can be. Over three hours, I learned how to make Vietnamese Summer Rolls, a kickass spicy peanut sauce, three kinds of Buddha Bowls and a Raspberry Cashew Dreamcake. Pretty impressive, huh?
They constantly educate you on where to score the freshest, locally-sourced ingredients from so you can switch to an organic diet. You get to eat everything you cook (you can even request to pack it!), take back the recipes ad a whole lot of know-how. Come with all the questions you may have about anything related to food and eating healthy.
PS: They tie up with a different chef for a set of four Health & Wellness classes, which take place over two weeks. They also conduct regular classes (Le Petit Chef) for kids, in case your little one wants to start early.
Comments
Nearest Metro Station:

SAKET