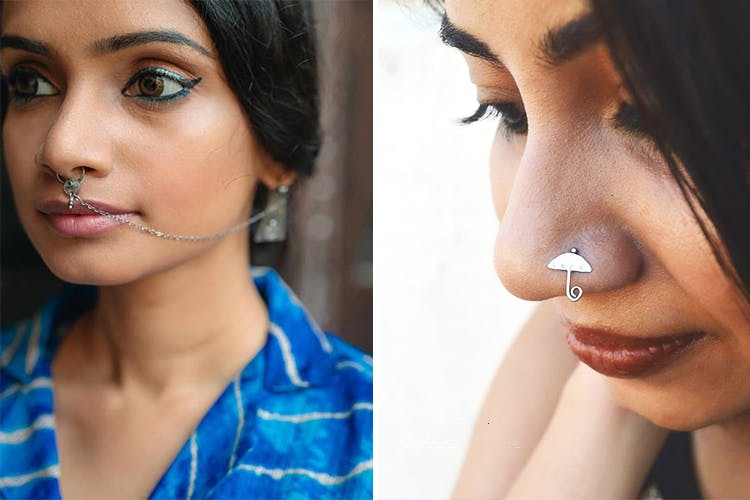 Chai Glasses, Leaves & Clouds: ROIA's Nose Pins Are Gorgeous & Customisable
Shortcut
Chennai-based jewellery brand, ROIA, does unconventional nose pins with umbrellas, tulips, big tribal nose rings and in other fun, colourful shapes. They're all handcrafted with a lot of love.
What Makes It Awesome
Rohita, the woman behind the stunning designs, calls her jewellery 'wearable luxury'. And why not? Each piece is singular and has a story behind it. Whether it's the tiny petals, septum rings, beaten shapes or traditional naths, she puts thought into every piece.
We have our heart set on their rain cloud pin that's adorable as hell. Oh, and the big nose rings, you might see us in these when we're feeling a little adventurous…or heading out for an outdoor gig. Aaah, so many occasions, so many nose pins and clearly, so little time. Right?
As you might have guessed, we could go on and on pointing out our favourites, but we don't want to impose. Our hipster side, meanwhile, is leaning towards the oxidised ones (OMG the cute triangle one). They've also got a range of the prettiest metal earrings and fabric necklaces. We're so overdosing on kohl and reliving those college days with torn jeans and kolhapuris.
What Could Be Better
At the moment, they do not have their own website or a physical store in Delhi. We really wish they did.
Pro Tip
Want a small, fish nose ring? Or a bird choker? Hit her up with ideas and she's happy to make one just for you. This little piece of luxury won't come cheap, but it's sure to make a statement… ROIA really nose best.
You can write to her on Facebook for orders, and she ships all over India. Or, lovetimri.com stocks some of her designs.