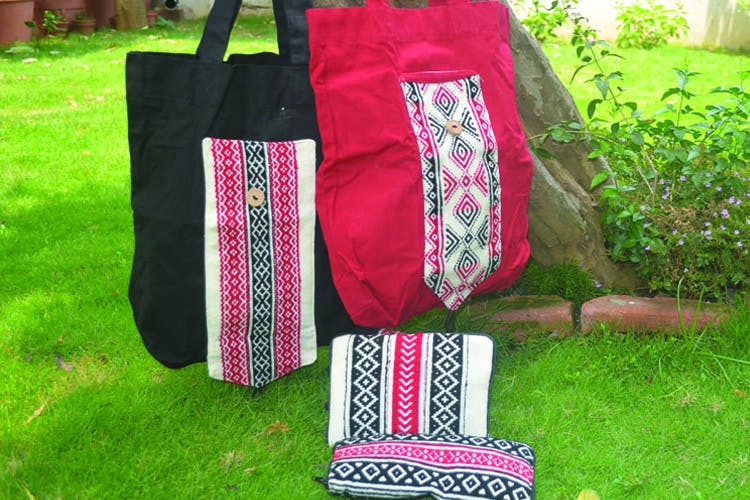 Chirpy India's Bringing Nilgiri's Toda Embroidery Back
Shortcut
From personal accessories to home decor, Chirpy India's arty collection will have you wanting more. Toda crafts get an update here, too, which we're loving.
From The Nilgiris
Brownie points to Bangalore-based Chirpy India, who is making a heart-felt effort to save the dying art form of Toda, which hails from the blue hills of Nilgiris. Traditionally, Toda embroidery features black and red thread on a white cotton cloth, and Chirpy India's range of collectibles is supremely covet-worthy.
Basic, But Not So Basic
Their range of stoles, scarves, and shawls, all in Toda embroidery, come in a variety of minimal and classy designs — some heavy and some light, and will give any basic outfit an artsy touch. We're also totally digging their table squares, trivets and runners, cushion covers and bed linen — so basic yet striking.
The simplicity of this artwork is what has us swooning. They have totes and potlis too, to jazz up your outfit, if you're up for a traditional, muted look. They also have a beautiful collection of watercolour paintings featuring portraits and landscapes of rural India.
And if wasting paper makes you unhappy, their lovely, colourful range of baskets made out of newspaper will make your day. Chirpy India works with a number of artisans to create the beauties on their website.
#LBBTip
Check out their sale corner for discounts on leather slippers, hand-sculpted marble ashtrays, papier mache bowls, coasters, and tablet sleeves.
More Information
Comments