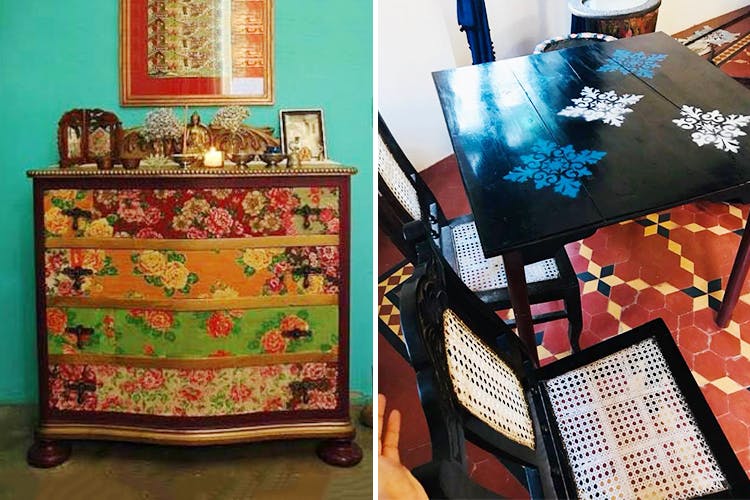 Old Can Be New Again: Coco Rose Re-Paints & Upcycles All Kinds Of Furniture
Shortcut
Coco Rose By Alisha is not only a vintage furniture brand, but they're also ready to make old, beaten-down furniture look as good as new using the two techniques Alisha is amazingly good at—découpage and hand-painting.
What Makes It Awesome
What started at home and with a few products (coasters, wall plates, mirror frames and more) is now a grown-up venture. She tells us that painting old furniture with delicate floral motifs or giving haggard old tables a thorough paint job is a way of extending their life without having to part with them prematurely. In fact, we're sure it's also the perfect way to marry her love for decor with the 'no-wastage' philosophy she swears by.
She's a one-man army who dabbled in journalism and advertising before she forayed into upcycling. Today, she's wholeheartedly into decor and gifting—and doing a pretty neat job of it.
If you're not someone who has idle furniture lying at home, her services still might come in handy if you have a family function coming up and need customised, retro-looking invites. She even takes bulk orders for coasters, wall plaques and family collages that bring out her innate talent beautifully.
The decor starts at INR 1,000 and furniture from INR 4,000. If you want her to re-do your space, the charges vary depending on your brief and amount of work involved but will roughly be between INR 8,000-20,000.

Also, Alisha's fees go into giving her stray dogs a better life. She volunteers with PFA (People For Animals) and, in her own words "I'll do anything for animals. My heart belongs to them wherever I see them."

What Could Be Better
We really do wish she had her own website or a store where we could drop by for a look-see.

Pro Tip
She takes on completely customised orders, too. Have an idea for a family console table or even a travel souvenir desk? Give her a shout already.

Also On Coco Rose By Alisha