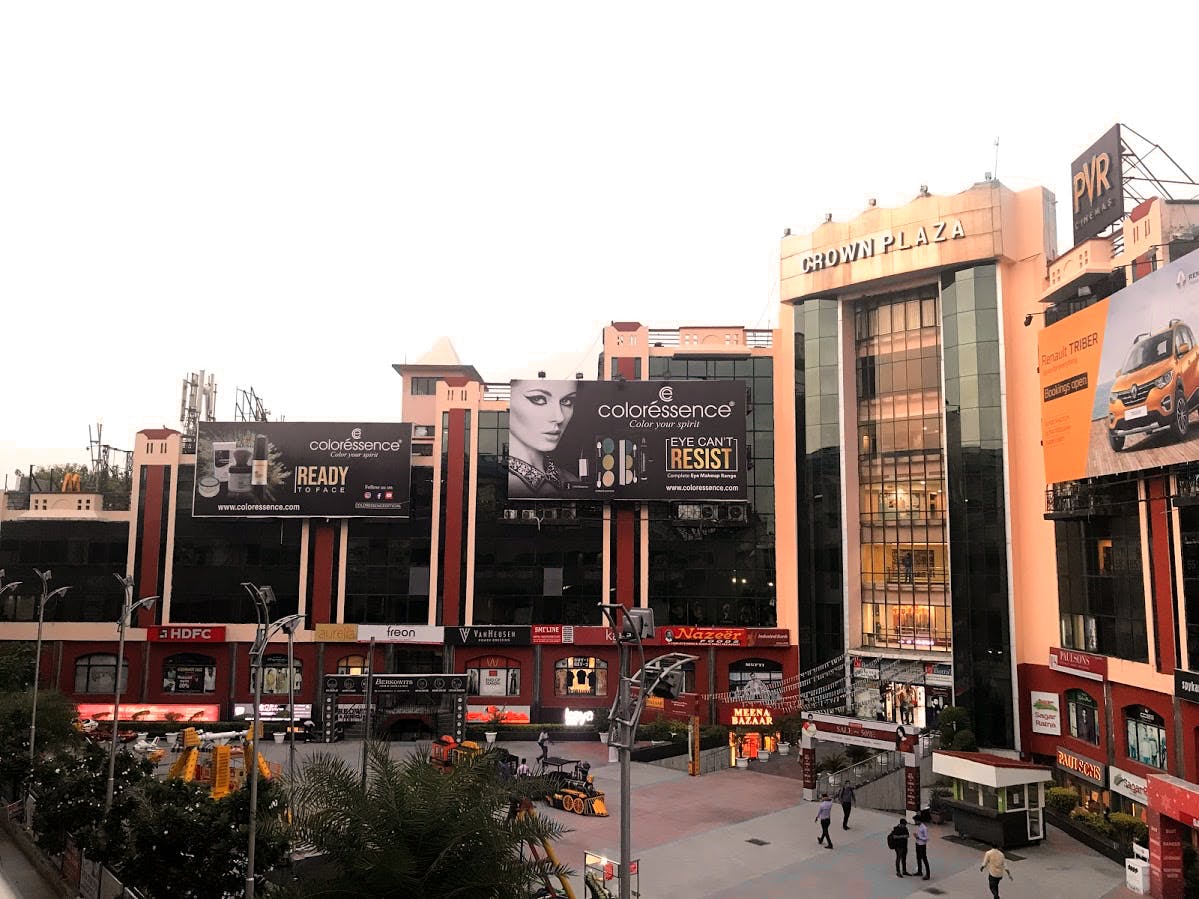 Ladies, Shop Your Heart Out At Crown Plaza In Faridabad
From kurtas and saris to denims and tops, Crown Plaza mall in Faridabad is a shopping haven for all the ladies out there. Here are the top stores that you'll find at Crown Plaza.
Also check out our list of the best menswear stores at Crown Plaza here.
A side note: Crown Plaza, Faridabad is open from 11 AM - 11 PM from Monday - Sunday. Neelam Chowk Ajronda is the closest metro station.

Shree
Recommended for: Floral tunics, kurtas, and kurta sets. Shree also has a huge variety of breezy dresses on its shelves. They're running a flat 50% off sale for a limited time too.
Prices at Shree start at INR 699.
Laabha
Recommended for: Basic kurtis, dresses, palazzos, and skirts. Laabha's printed Anarkali dresses are also a great buy and extremely value for money.
Prices at Laabha start at INR 799.
W
Recommended for: Printed long skirts, crop tops, and a ton of colours. Do also check out W's range of solid cotton dupattas with pintucks.
Prices at W start at INR 599.
Orchid Blues
Recommended for: Festive wear gowns and dresses, a huge variety of crop tops, and metallic bags. Orchid Blues' collection of scarves is also worth checking out.
Prices at Orchid Blues start at INR 599.
The Good Things Store
Recommended for: Suits, dresses, and Indo-western wear in muted shades of pink, peach, and beige. The Good Things Store also has a flat 50% off sale currently.
Prices at The Good Things Store start at INR 1,299.
Vibe
Recommended for: Floral maxis, shirts, and a ton of denim options. We also really liked the range of metallic tops that Vibe has on its shelves.
Prices at Vibe start at INR 1,199.
Woodland
Recommended for: Comfy shorts, joggers, and basic polos. You should also check out the range of windcheaters at Woodland.
Prices at Woodland start at INR 1,195
Stylize Creations
Recommended for: Cotton, rayon, silk, and chikankari suits. Stylize Creations also has a buy 2, get 4 offer on currently which you shouldn't miss out on.
Prices at Stylize Creations start at INR 1,000
Urban Vogue
Recommended for: Affordable denims, long-sleeve tees, and casual dresses. Urban Vogue is an export surplus store, so you'll find a limited stock of all the pieces there.
Prices at Urban Vogue start at INR 449.
Jazz
Recommended for: A huge collection of printed tops, colourful sweatshirts, and denim shorts. Jazz also has a few festive dresses that you should definitely check out.
Prices at Jazz start at INR 599.
Meena Bazaar
Recommended for: Cotton, silk, banarsi, and chanderi lehengas and saris. Meena Bazaar is a one-stop-shop for your bridal wear needs and even their bridal gowns are worth taking a look at.
Prices at Meena Bazaar start at INR 850.
Chhabra's
Recommended for: Printed and embellished saris and lehengas. We also really liked the collection of foil-printed straight kurtas at Chhabra's.
Prices at Chhabra's start at INR 975.
Dulhan
Recommended for: If you like to wear suits, saris, and lehengas with loud prints, then Dulhan should be on your radar. They're also running a sale up to 50% off, so don't miss out on that.
Prices at Dulhan start at INR 899.
Comments