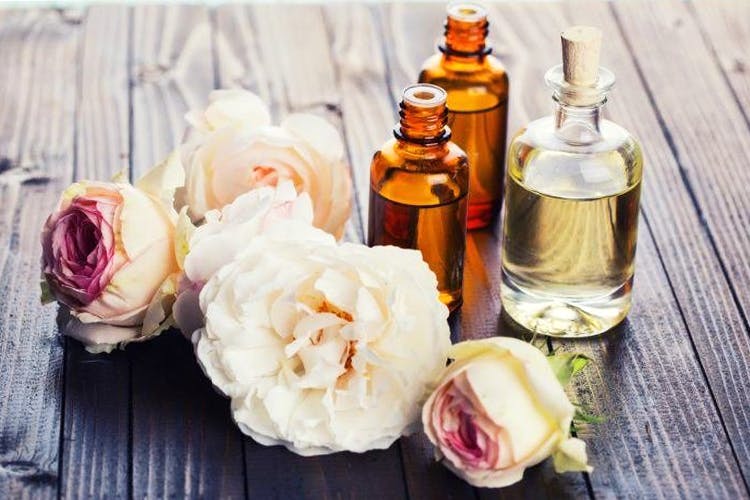 Every Bride-To-Be Should Pamper Themselves With These Face Serums
Beauty oils are a must-haves in a woman's daily beauty routine and should be quite essential if you're a bride-to-be. Your skin-care routine before, during and after the wedding must help treating breakouts, provide an even skin tone, nourish your skin deeply and reduce the appearance of fine lines. So on your big day, you can look as fresh as a daisy.
Indulgeo Essentials - Rose Gold Oil
The Indulgeo Essential's luxurious Rose Gold Oil is infused with real 24k gold flakes which helps provide the skin a radiant and healthy glow. Many makeup artists swear by this potion to use before makeup application for a fresh and seamless makeup finish.
Buy here.
Kiehl's - Day Reviving Concentrate & Midnight Recovery Concentrate
The Daily Reviving Concentrate helps in keep your skin radiant and youthful-looking. It provides anti-oxidant protection with a powerful blend of naturally-derived oils—ginger root, sunflower, and tamanu. The Midnight Recovery Concentrate is super-nourishing and absorbs into the skin in a jiffy. It helps nourish your skin, heal dry patches and helps fight acne overnight.
Clarins - Huile Lotus
This face oil by Clarins is an exclusive blend of naturals herbs like rosemary, geranium and lotus extracts, which purify the skin, tighten pores and refines skin texture. It seals in moisture to prevent fine lines and moisture loss. Definitely something you should try out.
Buy here.
The Body Shop - Oils Of Life
The Body Shop Oils of Life is an all-organic tonic made to revitalise and repair skin from within. It helps enhance the quality of your skin, making it look fresh and healthy. It has quick absorbing abilities, leaving skin with a plump, velvety-soft finish.
Buy here.
Bobbi Brown - Skin Clarifier Concentrate
This potent concentrate is formulated for acne prone and pore-clogged skin. It helps balance sebum levels, increases cell turnover to de-blemish and soothes your pores. It's a life-saver before the big day.
Buy here.
Clinique - Smart Treatment Oil
The Clinique Smart Treatment Oil is infused with anti-ageing properties. Its triple anti-oxidant blend helps retain skin's natural plumpness and refines fine lines.
Buy here.
Estée Lauder - Advance Night Repair
This luxe potion is a life saver and works wonders overnight. A lot of bloggers and make-up artists swear by it. It is an oil-free serum which instantly sinks into the skin, leaving zero residue. Wake up with fresh, clear skin that looks and feels great.
Buy here.
Comments