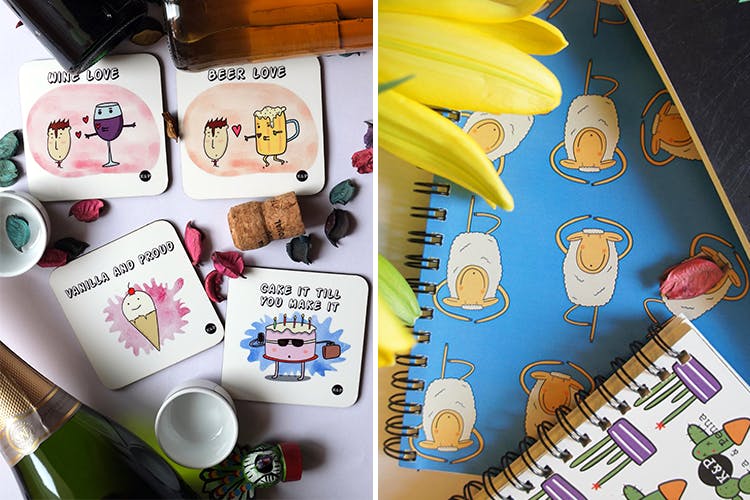 Find Adorable Sheep Notebooks & Cactus Phone Cases On This E-Store!
Shortcut
Krita & Penna (Swedish for pen and pencil) is a brand that does a bunch of things like coasters, notebooks (oh, look at the sheep one!), wall art, mugs and phone cases with the most fun prints. What kind, you ask? Think everything from penguins and cassettes to astronauts and trucks.
What Makes It Awesome
Krita & Penna is a month-old brand that gives a lot of importance to design—clearly visible in each and every one of their products.
Their designs are clean, fun and we especially love that all of them have a nice doodle-y aesthetic. Also, in this day and age, when there are numerous brands doing gifting and accessories, K&P's designs are not the usual, run-of-the-mill kind. The sleeping sheep and the stingray prints are among the few we haven't seen a lot of other places doing.
Krita & Penna is also great option in case you're looking for cute but affordable gifts. Your writer friends would love journaling in this brand's Happy Penguin notebook, while the coasters here make for a nice house-warming gift. If you're looking for a funky phone case, check out the blue whale and the floppy disk print.They've also got a small section of framed posters that you can check out in case you're doing up your home.
What Could Be Better
At the moment, they only offer spiral-bound notebooks, which we're not particularly fans of. We'd have loved to see the usual notepad and hard-bound notebooks too.
Also, they have a very limited set of coasters and mugs.
Pro-Tip
Krita & Penna delivers across India, but they take a minimum of at least 7-10 days to get those products to your house. Be sure to take the delivery time into account before you order.
Price: Starting at INR 299.
Comments