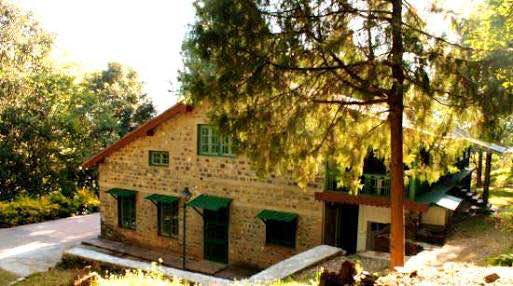 Gather Your Gang & Pay A Visit To This Heritage Resort In Bhimtal This Weekend
What Makes It Awesome
A short uphill drive, around 2km of a unpaved road from Bhimtal Lake, Nainital District, leads you to Fredy's Bungalow, near Nainital. The imposing colonial-style bungalow, converted to a resort, nestles among cypress and deodar trees, on a peaceful wooded hillside, overlooking the Bhimtal valley and the mountain slopes beyond. Located in the midst of acres of dense oak forest, this is a peaceful haven where only the sounds of nature break the silence: the wake-up song of the resident Whistling Thrush, the sharp call of a Barking Deer in the distance; the hoot of a Spotted Owl signalling dusk. Also, this part of the Kumaon Lake region is home to a large variety of flora, fauna and aquatic life, and this has always attracted bird-watchers, butterfly-collectors and nature lovers as well as writers in search of solitude and city-dwellers seeking to renew their spirits. A steep 10-minute mountain trail, adjacent to the bungalow, leads to the ridge with its breath-taking view of the Sattal Lakes below and Nainital in the distance. A level walking track from the bungalow offers an easy 30 minutes walk to these lakes, which are otherwise more than 10km, and 45 minutes, by motor road.
What's My Pro Tip?
Good time to visit is around April and October, it starts getting chilly from November onwards night temperate drops up to 5-degree Celsius. And after November, it actually starts snowing all the way till December and January.
Anything Else?
Survey the in-house butterfly collection. Enjoy boating or bird-watching in and around the Sattal and Bhimtal lakes. Explore the serene surroundings of the bungalow that are an invitation for a long walk or quiet contemplation and meditation. Or else, simply relax with family and friends and let us pamper you with now legendary Itmenaan hospitality and an array of culinary delight.s This bungalow resort is just 45 minutes drive away from Nainital.
Comments