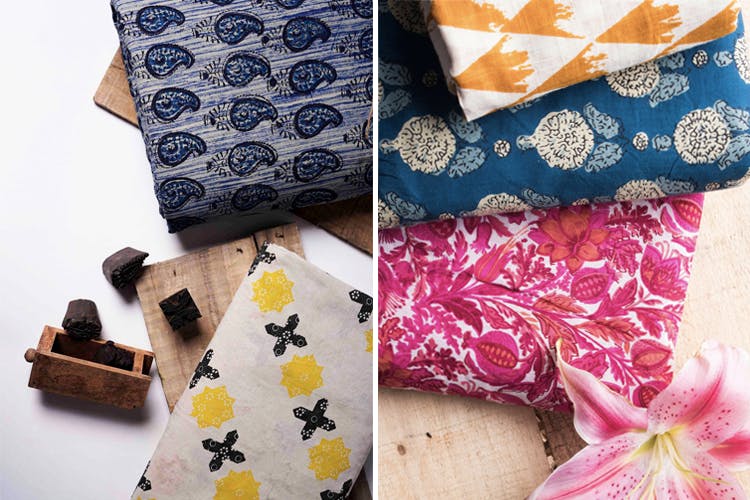 Ikat, Leheriya & Shibori, These 6 Websites Sell Pretty Fabric For Your DIY Outfits
There's an undiscovered fashion designer in all of us. Don't tell us you haven't enjoyed executing a dress from start to finish with the help of a local tailor. Or haven't meticulously collected reference images of blouses to get a replica made from your favourite dupatta that's got a tiny tear on the edge.
Okay fine. Even if that's not you, we bet your mum or sister's always on the lookout. Where's the joy in purchasing hand-painted table mats when you can make them at homE? So, here's our go-to list for online fabric buying when you can't brave the sun.
Fabriclore
The fact that Fabriclore adds 1,700 new designs every day should give you an idea of how maddening this place is. This Jaipur-based brand has batik, shibori, checks, indigo, block prints, leheriya, polkas, paisleys… name it and they got it. It's a great win that you can narrow down your search based on what fabric you want, what your budget is and what patterns you dig. If you don't find everything between fancypants, fit-for-shaadi stuff to subtle, dreamy casuals so the only thing limiting here might be your dismal DIY skills.
Fabrics2Buy
This fabric shop in Nehru Place has finally evolved. Having been in business for around four decades, they've now got a rudimentary but functional website from where you can order ikat, prints or mangalgiri for long skirts or chanderi for them sassy blouses. They've segregated the selections based on categories like upholstery and clothing just so your dress doesn't look like a sofa. Also, they take between three-five days to deliver.
Parisera
One of our favourite sari places, Parisera also has an impressive range of running fabrics. From classy handwoven ikats to summery printed cottons, this one's for people who like investing in quality. The solids are great too, we're seeing a lot of blouse and formal kurta prospects.
iTokri
This is for hipster dress ideas and artsy blouses. Check out their block-printed designs if you have everyday kurtas on mind. We're picking the kutch prints for blouses to go with linen saris and them cute art prints for crop tops or simple shift dresses. In short, iTokri is winning for earthy colours and subdued patterns. If it's colour and drama you seek, you'll be better off elsewhere.
Ajio
Apart from an amazing indie collection, we were surprised to find a whole bunch of running fabrics at Ajio. The collection here mainly lends itself to good work suits/kurtas because they're safe but pretty. The soothing colours and prints will also fair decently when turned into table covers or cushion covers. See all your options, but if we were you, we'd try the three piece fabrics for suits to turn into coordinated, funky cushions.
Vastragraha
This new e-store that we discovered on Instagram has prints on everything. From cottons to crepes, they've picked out printed material for all your fabric needs with pretty motifs and delicate florals all over. So if you're looking to get a pretty summer dress, kurtas or blouses stitched for yourself, or want a new cover for your duvet, they're your people. They're only on selling on Instagram right now.
Comments