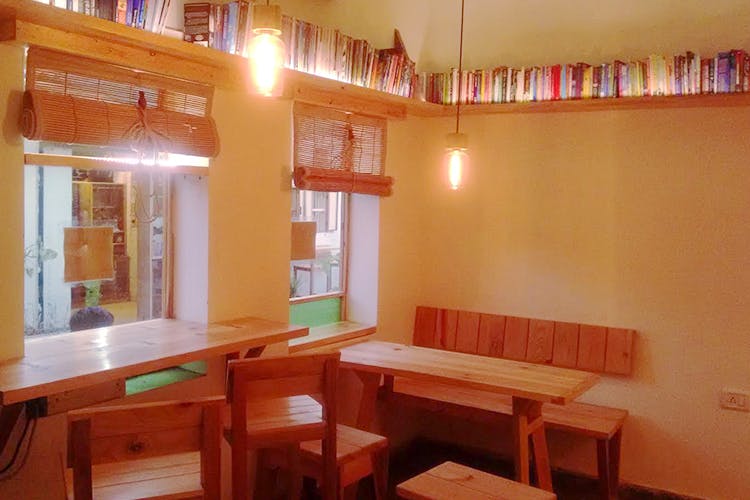 Books and Brews To Wash Away Your Blues At Jugmug Thela's New Reading Room
Shortcut
Our favourite cafe in Saidulajab – Jugmug Thela just opened its Reading Room and we can't stop gushing over this noble venture! The Reading room is a tiny shop next to the Thela for 'pre-loved books', proceeds from which go to Karm Marg, a residential  care home for disadvantaged children.
Isn't This Every Book-Lover's Dream Come True?
With the aim of promoting a 'culture of reading', they let you swap a book of your own with another one from the Reading Room for just INR 50. Y'all can even donate books and for every 10 books that you donate, Jugmug will give you a cuppa of their slurp-worthy chai. And should you want to take a book home, they are priced typically at 50% of their value. The good peeps at Jugmug will also let you read second hand books free of charge at the Reading Room and while you're at it, you could even enjoy their handmade biscuits, gourmet coffees and natural teas. We're fans of their Vietnamese Cold Coffee, Masala Lemon Ice Tea and 12 Secret Ingredient Masala Chai.
So, We're Saying...
They're looking for enthu bibliophiles who can volunteer to help them sort books or you could even just visit the reading room for a quiet evening as you curl up to a great book and an even better cup of cha.
More Information
Jugmug Thela
Nearest Metro Station: SAKET
Comments